Almost 2 weeks have gone by since I have updated my blog. I guess it's time for some news, although there isn't much new. In the weekend of February 21 we went to downtown Vancouver where we visited The Home & Garden Show. This for the reason to get some more ideas for renovations. We found what we were looking for and the show was fairly interesting. I did see something that I can only dream of ever having. It was like some kind of a swimming pool/hot tub build in a rocky environment…it looked so cool. But I guess we first need to find a Million Dollar house to go with that…haha. For the fun of it I asked to person of the company that installs these things how much it would cost. He said $65,000 CAD installed…WOW…I can buy 2 or 3 new cars for that kind of money. Anyway, it was interesting to see and we must be able to dream now and then, right?

Bijna 2 weken zijn voorbij gegaan sinds ik nog eens in mijn blog geschreven heb. Dus ik denk het tijd is voor wat nieuws, niet dat er veel nieuws is. In het weekend van 21 februair zijn we naar downtown Vancouver geweest om naar de Home & Garden Show te gaan. Dit voor de reden dat we nog wat ideeen wilde opdoen voor de renovaties aan ons huis. We hebben de dingen gezien die we graag wilden zien en vonden de show vrij interessant. Ik had daar wat gezien waar ik alleen maar van kan dromen. Het was een soort zwembad/bubbelbad gebouwd in een nagebootst rotsachtige omgeving...het zag er zo cool uit. Maar ik denk dat we eerst een bijpassend Miljoenen Dollar huis moeten vinden...haha. Uit interesse had ik nagevraagd hoeveel zoiets zou kosten om te laten bouwen en installeren. Hij zei $65,000 CAD geistalleerd, dat is ongeveer 40,500 euro...WOW...daar kan ik 2 of 3 wagens voor kopen. Maar het was wel interessant om te zien en men moet toch eens kunnen dromen, niet?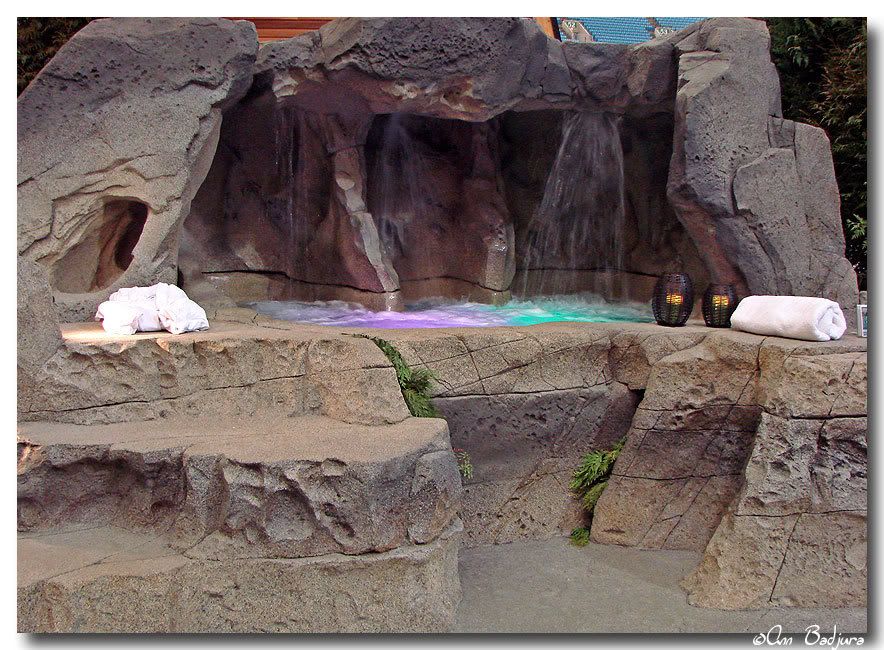 For the rest of the week not much happened as I had to work. Michael's birthday was on Wednesday…Thank you for all the wishes and cards, they are appreciated by Michael. We didn't do too much for his birthday. We went for a nice dinner and tonight we are having McDonalds and home made birthday cake. His parents are coming over as there is a Pay Per View hockey game on. On Michael's birthday (Wednesday) we had a bit of a surprise weather wise. When we got up it was raining and wet outside, but by lunch time some colder arctic air moved down from the mountains and this rain turned into huge snowflakes…what a sight again. I think we had a few inches by the time it stopped snowing, but thankfully the road were too wet for it to stick much. It has been sunny again since that snowfall, but by Sunday they expect that the rain is coming back.

Voor de rest van de week is er niet veel gebeurd wat ik moest werken. Michael verjaarde de woensdag...Dank aan allen voor hun wensen en kaarten, hij vond dat heel fijn. We hebben niet zoveel gedaan voor zijn verjaardag. We zijn lekker gaan eten en vanavond hebben we McDonalds en zelfgemaakte verjaardags biscuit. Michael zijn ouders komen naar hier wat er is een Pay Per View hockey wedstrijd op tv vanavond. Op Michael zijn verjaadag werden we ook verrast door het weer. Als we 's morgens opstonden was het nat en regende het, maar tegen de middag kwam er arctische lucht van de bergen af en de regen veranderde in dikke vlokken sneeuw...wat een zicht. We hebben zo'n 6 tot 10cm gehad tegen dat het stopte, maar gelukkig bleef het niet echt liggen op de wegen en was het goed te doen om te rijden. Het is sinds die dag zonniger en warmer, maar tegen zondag geven ze weer regen uit.
A couple of video clips of the snow from Wednesday


On Thursday (yesterday) I went for lunch with my friend Julie and we went to a Malaysian restaurant, I never thought I'd be up for that…but it was delicious. This place was called "Tamarind Hill" and they serve really good and cheap Malaysian food. For the both of us with drinks and taxes it was around $25 CAD. If you're interested you can have a look at their website: Tamarind Hill Restaurant Today I went for an eye appointment as I have been wearing the same glasses for the past 3 years and I can tell that I can't see as well as 3 years ago. I have a new prescription now and my glasses will be a bit stronger. I also asked for the possibility of contact lenses and I am going for a trial session next week. So, we'll how that works out. After that I went to the hairdresser for a haircut as I really needed one badly. I will add a few photos so you can see what my hair looks like now.

Op donderdag (gisteren) ben ik met mijn vriendin Julie gaan lunchen, we waren naar een Malaysisch restaurant geweest, I had nooit gedacht dat dat iets voor mij zou zijn...maar het was heerlijk. Dit restaurant heet "Tamarind Hill" en ze serveren lekker en vrij goedkoop eten. Voor ons twee met drinken en taxen inbegrepen was het een $25 CAD (dat is ongeveer 15 euro). Als je geinteresseerd bent kan je eens kijken op hun website: Tamarind Hill Restaurant Vandaag ben ik voor een oog examen geweest bij de oogarts voor een voorschrift voor een nieuwe bril. Het is alweer 3 jaar geleden sinds ik een bril draag en ik merk dat ik niet meer zo goed kan zien als 3 jaar geleden. Ik heb een iets sterker voorschrift nu. Ik had ook nagevraagd voor de mogelijkheid voor contact lenzen en ik ga volgende week voor een probeer sessie. Dus, we zullen zien hoe dat meevalt. Daarna ben ik de kapper gegaan want het was hoogtijd om haren te laten knippen. Ik zal wat foto's bijvoegen hoe mijn haren er nu uitzien.
Some photos the day after the snowfall (Feb 26/09)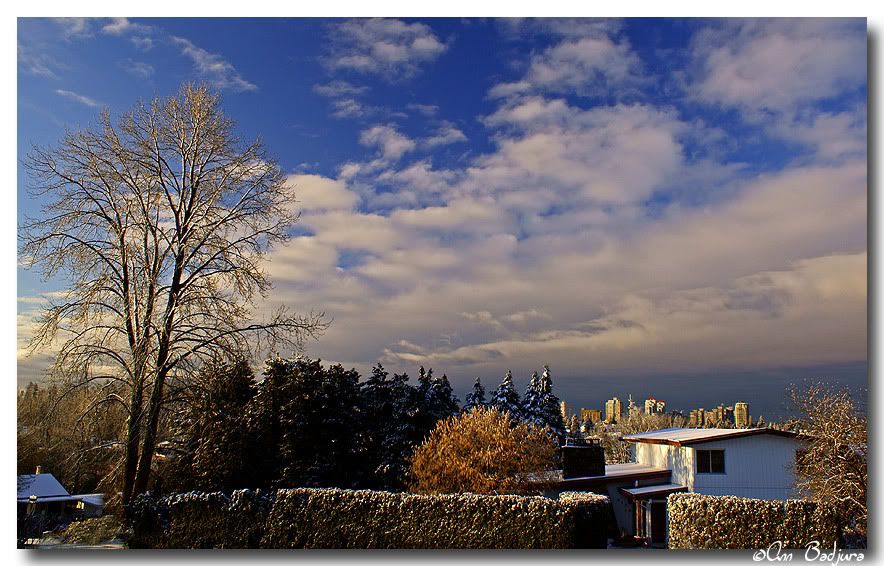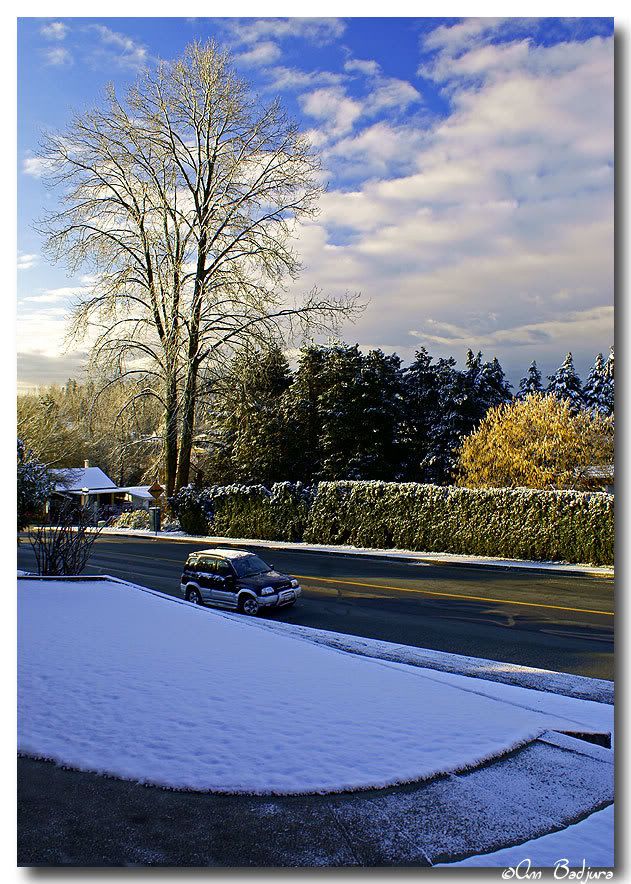 Stay tuned for my next post!