~Please click on the photos to see a larger version of it!
~AUB klik op de foto's om een grotere versie ervan te zien!

Here I am again with some news! I had some sad news today...my brother contacted me to let me know that my mom is in the hospital and that she has kidney stones. I hope she will get better soon, I am going to try and call her tonight at the hospital and hopefully I will know more by then!

Our patio cover is in place now, but needs just a bit of finishing touches. It really looks beautiful and we are happy with it…now all we need is some nice patio furniture and we will be ready for the summer. At work there is some news too, from next week on I will only be on call as there is no full time RN position available for me. I will probably look for some other on call work until I can get a full time job. I am still getting paid for 3 weeks of holidays, so I will enjoy a bit of time off as well.

Hier ben ik dan weer met wat nieuws. Vandaag kreeg ik wat minder goed nieuws via mijn broer. Hij liet me weten dat mama in het ziekenhuis ligt met nierstenen. Ik hoop dat ze snel beter is, maar ik ga haar straks proberen te bellen in het ziekenhuis en hopelijk weet ik dan wat meer!

Ons afdak van het terras staat er nu, maar het heeft nog een beetje afwerking nodig. Het ziet er heel goed uit en wij zijn er heel blij mee...nu nog wat mooie tuinmeubelen en we zijn klaar voor de zomer. Op het werk is ook wat nieuws, vanaf volgende week ben ik enkel "on call", dat wil zeggen dat ik insta voor verpleegkundigen die vakantie nemen of zich ziek melden want ze hebben geen fulltime job voor me op het moment. Ik ga waarschijnlijk ook nog op een andere plaats voor "on call" werk zoeken totdat er een full time job ter beschikking is voor mij. Ik krijg nog 3 weken verlof betaald, dus ik daar ga ik ook wel een beetje van genieten.



We've been having such beautiful weather lately, but we haven't had much time to enjoy it. So on my first day off I just went for a little drive through New Westminster (the town we live in) for a few photos. I drove down to the Fraser River near the New Westminster Quay where I took a few photos of this area. After that I went to Queens Park where it's always nice to walk and enjoy the beautiful flowers that are blooming. I also walked down First Street in the Queens Park area where you can find some really beautiful old Victorian houses that are about 100 years old and have been renovated. It's a lovely area.

We hebben zo'n mooi weer gehad de laatste tijd, maar we hebben weinig tijd gehad om er van te genieten. Dus op mijn eerste vrije dag ben ik wat gaan rondrijden door New Westmisnter (de stad waarin wij wonen) voor wat foto's. Ik ben naar de Fraser Rivier gereden dichtbij de New Westminster Quay waar ik wat foto's genomen heb van dit gebied. Daarna ben ik naar Queens Park gereden waar het ook altijd mooi is om te wandelen en om te genieten van de mooie bloemen die er bloeien. Ik heb ook wat rondgewandeld op First Street in het Queens Park gebied waar je wat prachtige mooie oude Victoriaanse huizen kan vinden die zo'n 100 jaar oud zijn en gerenoveerd werden. Het is een mooi gebied.
A view of the Fraser River, Patullo Bridge (red) and SkyTrain Bridge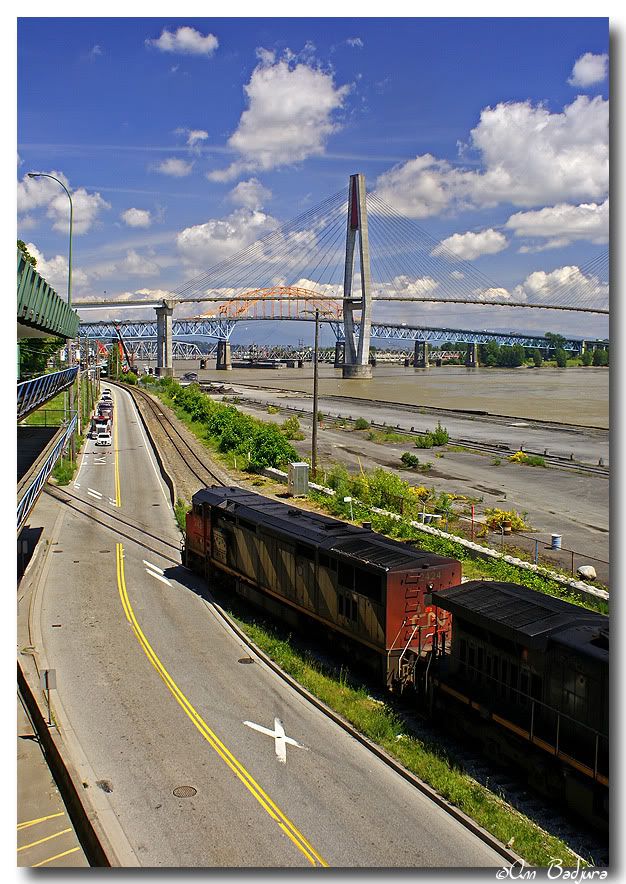 The SkyTrain crossing over the Fraser River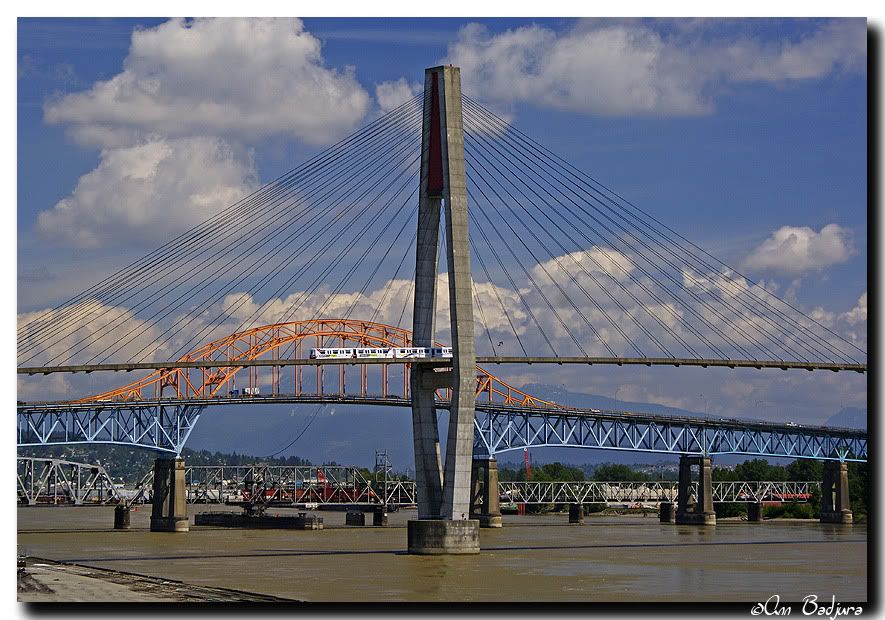 A little garden in Queens Park
Another view of the little garden in Queens Park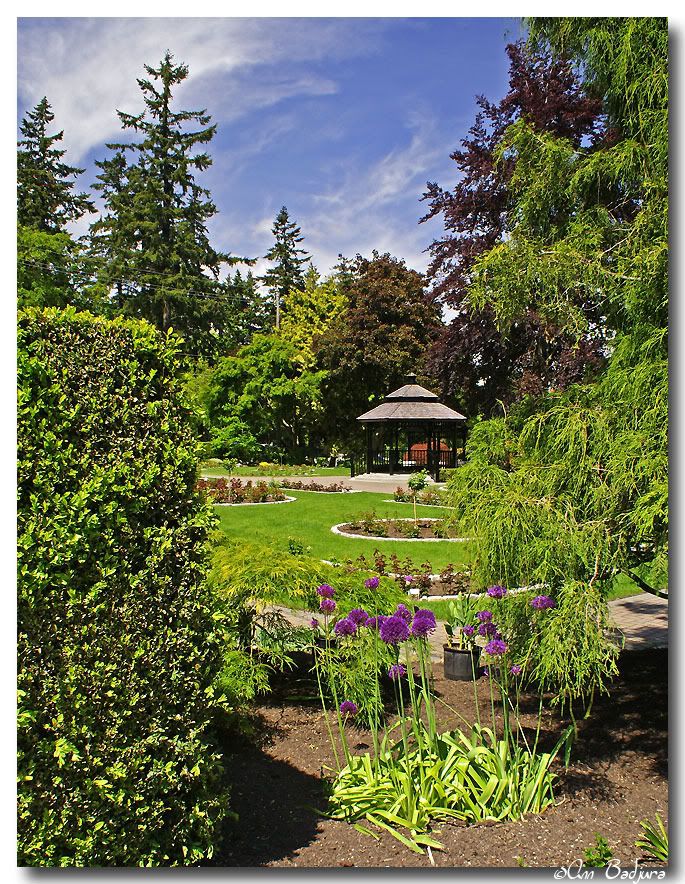 One of the old Victorian houses in the Queens Park area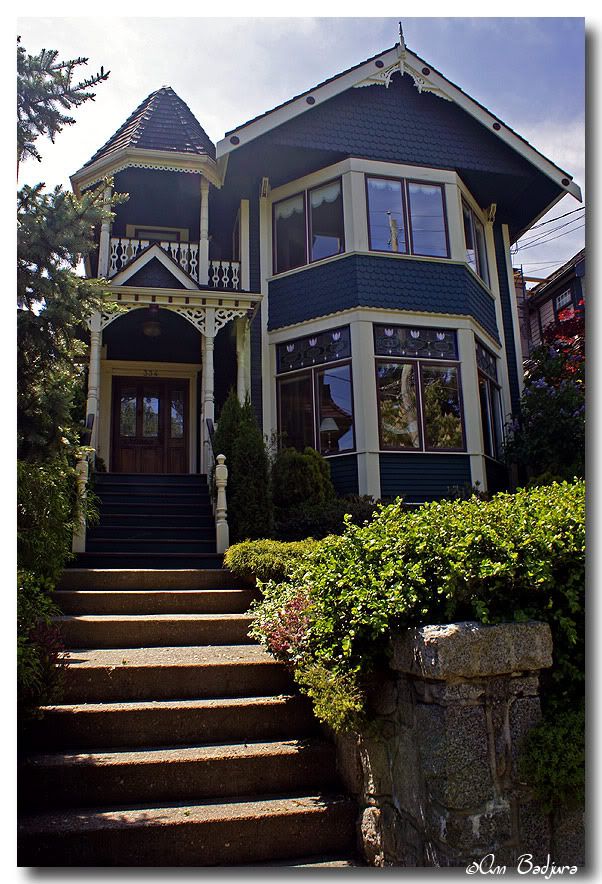 On my second day off (Thursday/yesterday), Ineke and I went to the "Forever Yours Lingerie" shop as I still had a coupon for my birthday that I needed to use before the end of this month and I needed some new things anyway. So we drove out to Langley and got some really nice stuff. In this store you can find regular sizes, but also sizes that you can't find in most stores, you also get your personal assistant to help you with anything. They measure you and they bring all the stuff right to your fitting room. They have lingerie, sleepwear and also swim wear. The items are fairly expensive, but the quality is a great and you the best service! I didn't think Ineke was going to buy things, but she ended up spending more than I did…hahaha. We went home all happy and satisfied (even though our bank accounts are shrinking). On the way to Ineke's place we stopped at Subway to pick up some sandwiches which we ate at her place outside in the sun on the patio. Aaaaah, what a nice day that was! I had a great time!

Op mijn tweede vrije dag (donderdag/gisteren) zijn Ineke en ik naar de "Forever Yours Lingerie" winkel geweest omdat ik nog een bon had voor mijn verjaardag die ik tegen het einde van de maand moest gebruiken…en ik had wel een paar nieuwe dingen nodig, dus dat kwam goed uit. Dus we zijn naar Langley gereden voor deze winkel waar we heel wat mooie dingen hebben gekocht. In deze winkel vind je gewone maten, maar ook maten die je in andere winkels niet vlug vindt en je krijgt ook je persoonlijke assistente die je helpt met alles. Ze meten je op en brengen alle lingerie die ze denken dat leuk bij je staan recht de paskamer in. Ze hebben hier lingerie, slaapkleding en badpakken/bikini's. Alles is vrij duur, maar de kwaliteit is erg good en de service is fantastisch! Ik had niet gedacht dat Ineke wat zou kopen, maar zij heeft uiteindelijk meer dan mij uitgegeven...hahaha. We ging gelukkig en content naar huis (ook al zijn onze bankrekening nu een stuk slanker) onze slankere bankrekening). Onderweg naar Ineke's thuis zijn we gestopt bij Subway om er een broodje op te halen wat we dan bij haar thuis op het terras in de zon hebben opgegeten. Aaaaah, dat was een heerlijke dag! Ik heb het erg naar mijn zin gehad!