It's unbelievable but we are in February again. The time sure flies. I have been busy with my studies for my big nursing exam lately. This exam is called the CRNE (Canadian Registered Nurse Exam). Tomorrow (Wednesday) is the big day and I can't believe it's finally here. I think I am ready for it as I have been studying for the past 2-3 months for about 3 to 5 hours a day. I have done the "Readiness Test" online for this exam which should give you an idea if you are ready for the exam. I had 80%, so I think I will be okay as you need to have a score of around %65 to pass. If I pass this exam I will get my RN (Registered Nurse) title I will be able to nurse at the the highest level which is equivalent to a Bachelor's degree in Nursing. I know that I have done everything I can to prepare myself for this exam and we'll just take it as it comes. It's a whole day of exam which starts at 8.00am and finishes at 4.30pm (with an hour lunch break). There will be about 300 questions in total. Wish me luck and I will receive the results by mail in about 6 weeks…that's quite a long time, but that's the way it goes.

Het is ongelofelijk, maar we zijn alweer in februari. De tijd vliegt nogal. Ik heb het de laatste tijd redelijk druk gehad met het studeren voor mijn grote verpleeg examen. Dit examen heet het CRNE (Canadian Registered Nurse Exam). Morgen (woensdag) is de grote dag en ik kan niet geloven dat we al zover zijn. Ik denk wel dat ik er klaar voor ben want ik heb de laatste 2-3 maanden zo'n 3 tot 5 uren per dag gestudeerd. Ik heb ook de "Readiness Test" gedaan online, deze test geeft je een idee of je klaar bent voor dit examen. Ik had 80%, sud ik denk wel dat het zal lukken want je hebt een score van 65% nodig om te slagen. Als ik op dit examen slaag dan krijg ik de RN (Registered Nurse) titel. Ik zal dan op het hoogste niveau van verpleging kunnen werken en dit is evenredig aan een Bachelor's Degree in verpleging. Ik weet dat ik er alles voor gedaan heb om me voor te bereiden voor dit examen en we zullen wel zien hoe het verloopt. Het examen is een hele dag dat om 8u begint en om 16u30 eindigt (met een uur lunch pauze). Het zullen zo'n 300 vragen zijn in totaal. Wens me geluk en ik zal de resultaten binnen een 6 weken krijgen via de post. Dat is nogal een lange tijd, maarja zo gaat dat nu eenmaal.

Otherwise nothing much has happened here. This year we're not planning any big trips because we will be doing some renovations on the house. We like to get a new patio cover, new tiles for the patio, new windows and things like that. Michael will be taking time off in the summer to do some things on the house himself. We will enjoy our usual week at Mara Lake where we go every year and besides that we probably try and get away for about a week somewhere this summer. We're thinking of Mount Rainier National Park in Washington State, USA or maybe the Canadian Rockies again. But we haven't been to Mount Rainier National Park yet and it's not as far as the Canadian Rockies. So, it will depend how much time we want to spend on a holiday. Mount Rainier National Park is a wonderful park with Mount Rainier as the main attraction. This mountain is volcano of 14,411 ft (4,392 m) high that has been dormant since the late 1800. There is no evidence of an eminent eruption in the near future. There are many hiking trails, wildflower meadows and many stunning views to be enjoyed. So, we'll do some more research and then we'll see what we'll do.

Verder is er niet veel meer gebeurd hier. Dit jaar gaan we geen grote trip doen want we willen wat renovaties doen aan het huis. We willen graag een nieuw terras overdek, nieuwe terras tegels, nieuwe ramen en zulke dingen. Michael gaat in de zomer dan vakantie nemen om dingen aan het huis te doen die hij zelf kan doen. We gaan wel van onze week genieten aan Mara Lake waar we elk jaar naartoe gaan en buiten dat gaan we proberen om ergens anders een week naartoe te gaan deze zomer. We zijn aan het denken aan Mount Rainier National Park in Washington State, USA of misschien weer eens naar de Canadese Rockies. Maar we zijn nog niet naar Mount Rainier National Park geweest en het is niet zo ver als de Canadese Rockies. Dus, het zal er aan liggen hoeveel tijd dat we willen uitgeven aan een vakantie. Mount Rainier National Park is een prachtig park met Mount Rainier als de grote attractie. Deze berg is een vulcaan van 4,392m hoog en is niet meer actief geweest sinds eind 1800. Er is geen bewijs dat deze vulkaan kan uitbarsten in de nabije toekomst. Er zijn hier vele wandelroutes, weides met wilde bloemen en prachtige zichten om van te genieten. Dus we zullen nog wel wat uitpluizen en zien wat we willen doen.

The last while we've had all kinds of weather, we had some snow (which is gone already), sunny days and rainy days. At the moment it's about 47 Fahrenheit (+8 Celsius) and a mix of sun and clouds. It's supposed to stay like this all week, so we're in for some nice weather. I have enjoyed a few nice sunsets from our living room window again and below here you'll find a couple of photos

De laatste tijd hebben alle soorten weer gehad, we hebben sneeuw gehad (wat alweer weg is), zonnige dagen en regenachtige dagen. Op het moment is het een +8 graden en een mix van zon en wolken. Het zou zo nog de hele week blijven, dus we mogen wat genieten van mooi weer. I heb nog kunnen genieten van een maar mooie zonsondergangen vanuit onze woonkamer en hier beneden vind je er een paar foto's van.
A few photos taken from our living room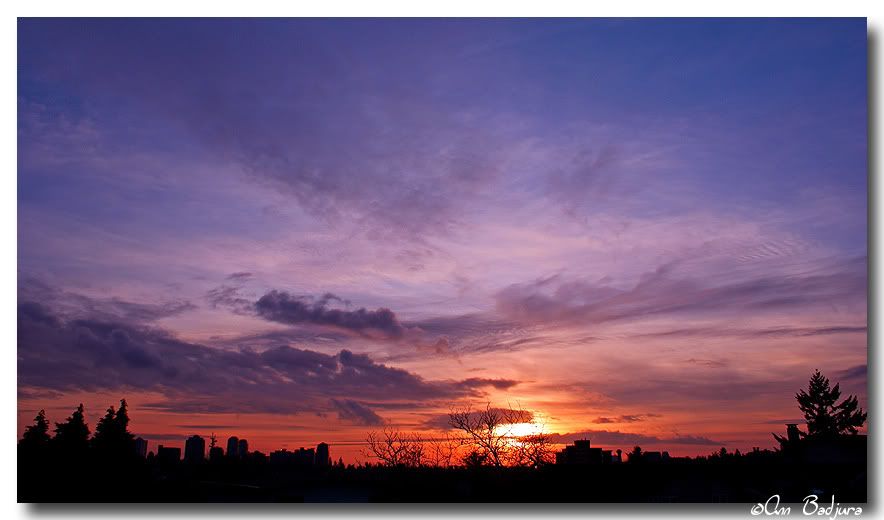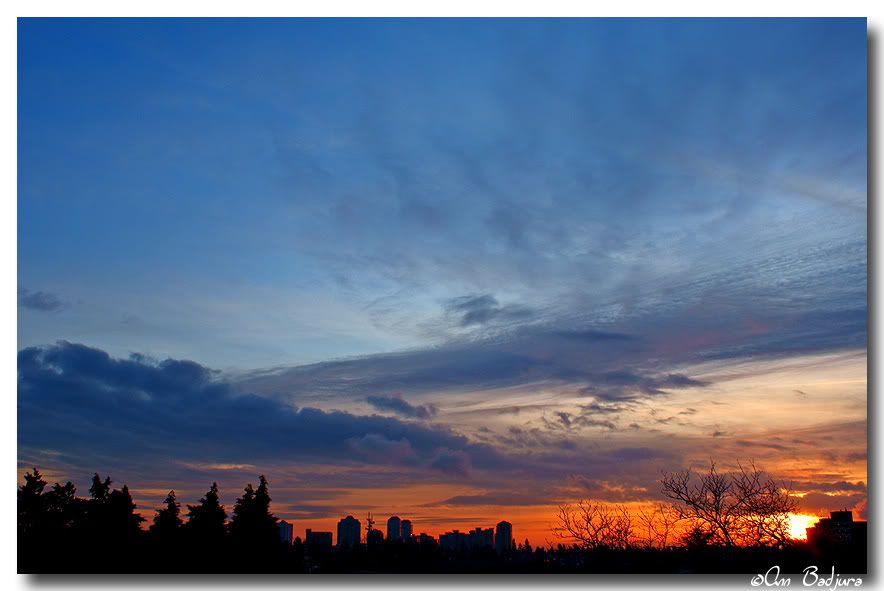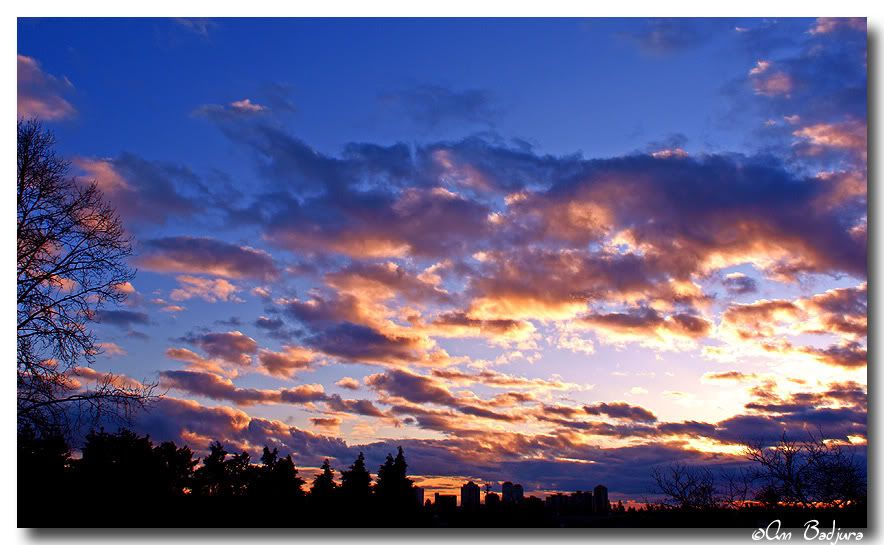 Stay tuned for my next post!