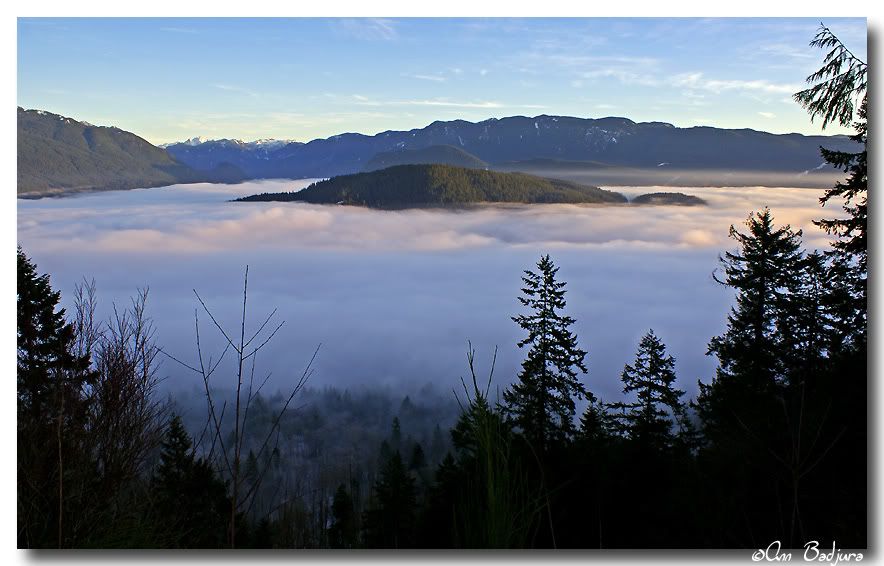 I must say that it pays off to get out early now and then with the camera. Michael had to be downtown Vancouver at 8.15am for work today as they were going to do all the networking at a conference of some kind at the Canada Place. I decided to get up with him and drive him down to the SkyTrain which is only 2 minutes driving. After I dropped off Michael I went back home, had some breakfast and by then it was about 7.45am. The sun slowly rising and the sky looked nice, so I thought I'd go take some photos at Burnaby Lake of the sunrise. While I was driving down there it just got foggier and foggier…so I decided to take the right hand turn instead to go up to Burnaby Mountain. Once I got up here the sun had just come up and the views were stunning with the fog and clouds hanging really low over the water and in the valley. I was glad I came up here to take some photos. You can see the results of some photos below.

Ik moet toch zeggen dat het soms wel de moeite waard is om er vroeg op uit te gaan met de camera. Michael moest vandaag voor zijn werk in downtown Vancouver zijn tegen 8u15 waar ze het netwerk moesten opzetten voor een of andere conferentie in de Canada Place. Ik had besloten om met hem op te staan en hem naar de SkyTrain te brengen met de auto wat maar 2 minuutjes rijden is. Daarna ben ik naar huis gekomen, wat ontbijt gegeten en tegen dan was het 7u45. De zon begon stilletjes op te komen en de lucht zag er mooi uit, dus ik dacht ik ga naar Burnaby Lake voor de zonsopgang te fotograferen. Terwijl ik aan het rijden was werd het steeds mistiger en mistiger, dus ik besloot om rechtsaf te slaan en richting Burnaby Mountain te gaan. Eens als ik boven was, was de zon al opgekomen en de zichten waren schitterend met de mist en wolken die boven het water hingen en in de vallei. Ik was blij dat ik hier naartoe gekomen was om wat foto's te nemen. Hier beneden kan je wat foto's zien van deze morgen.
A few photos from this morning at Burnaby Mountain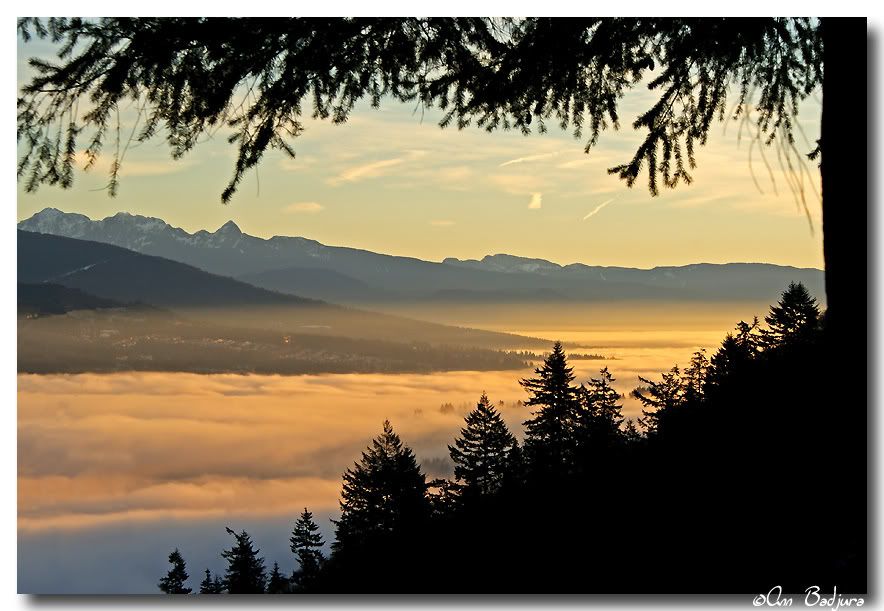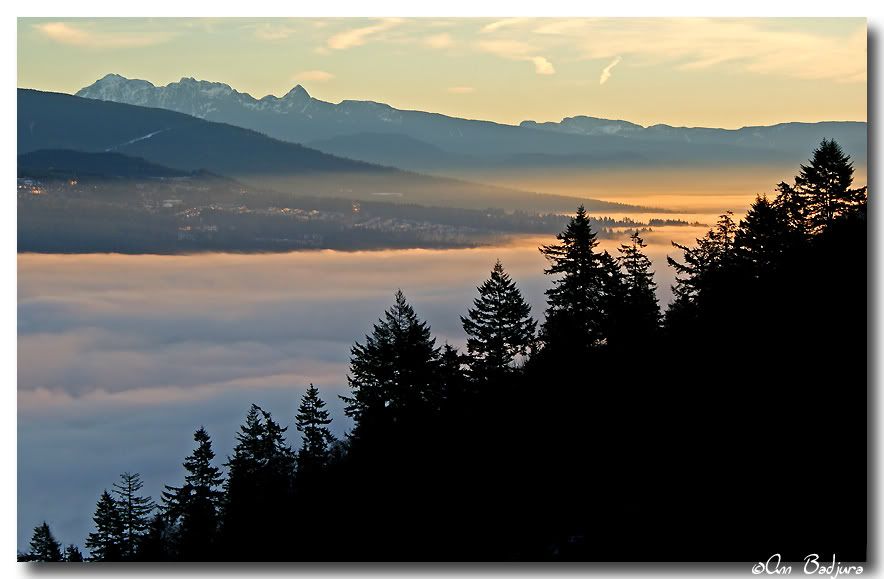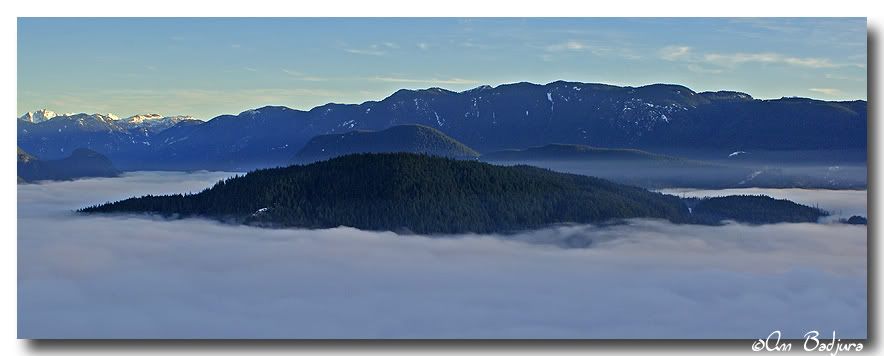 On Sunday I studied some more and in the late afternoon Michael and I went back to Burnaby Lake Regional Park. This time we went to a different area and we had to walk a few kilometers (miles) to get to a nice viewpoint. There was a bit of fog around and there was still lots of snow on the trails and that made a little more difficult to walk as it was slippery and very uneven in some spots. I think we walked for about 45 minutes after we came to a nice viewpoint. We were at the exact opposite point from yesterday. Here we stopped for a while and enjoyed the views and took some photos. I gave Michael my old camera so he could take some photos too. He seemed to be enjoying himself with that camera. The sun was slowly going down and it was getting colder. After some photos we walked back to the car and went home. We still had a frozen pizza in the freezer and that was going to be our dinner while we would watch the hockey game on TV. Michael and I had another lovely afternoon and a nice evening!

Op zondag heb ik nog gestudeerd en in de late namiddag zijn Michael en ik terug naar Burnaby Lake Regional Park gegaan. Deze keer zijn we naar een ander gebied gegaan en moesten een paar kilometer wandelen tot aan een mooi zichtpunt. Er was nog wat mist en heel veel sneeuw op de paden wat het wat moeilijker maakte om te wandelen want het was glad en erg ongelijk op sommige plekken. Ik denk dat we ongeveer een 45 minuten gewandeld hebben voordat we aan een mooi zichtpunt uitkwamen. Nu waren op precies de overgestelde plaats vanwaar we gisteren waren. Hier hebben we dan eventjes gestopt om te genieten van de mooie zichten en om wat foto's te maken. Ik had Michael mijn oude camera meegegeven zodat hij ook wat foto's kon nemen. Hij vond het precies wel plezant. De zon begon stilletjes onder te gaan en het begon wat frisser te worden. We zijn dan terug naar de auto gewandeld en naar huis gegaan. We hadden nog een bevroren pizza in de diepvries en dat was dan ons avondeten terwijl we naar hockey gingen kijken op TV. Michael en ik hebben weer fijne namiddag en avond gehad!
A few photos from our Sunday walk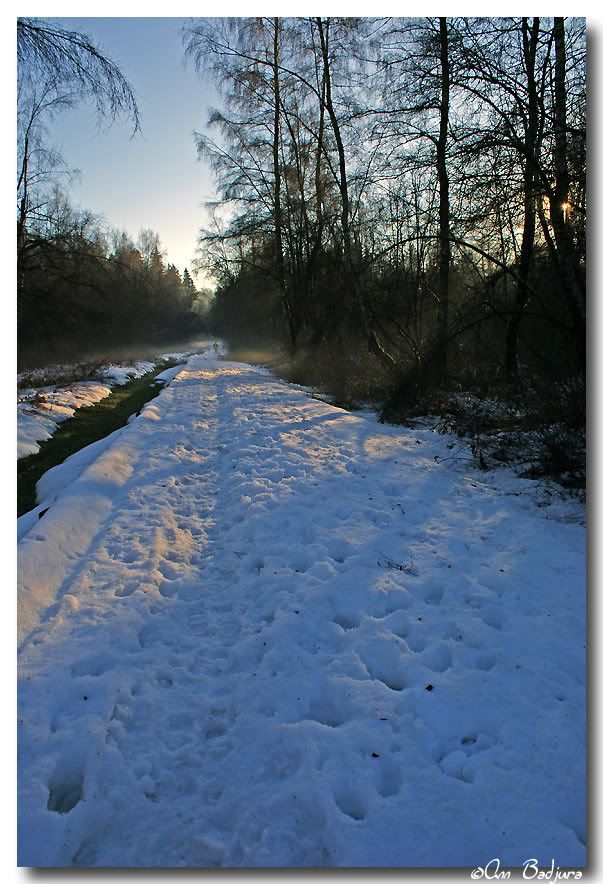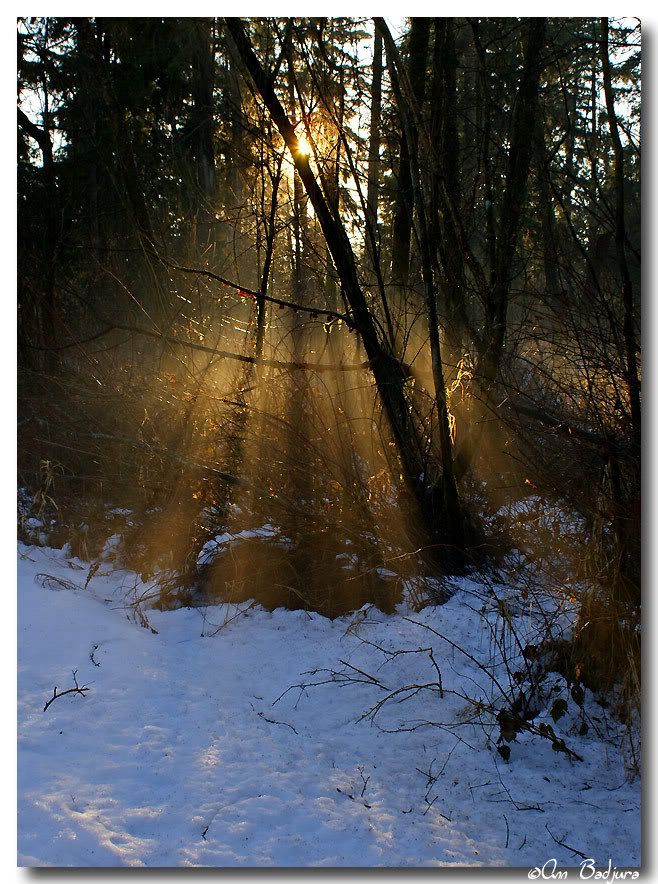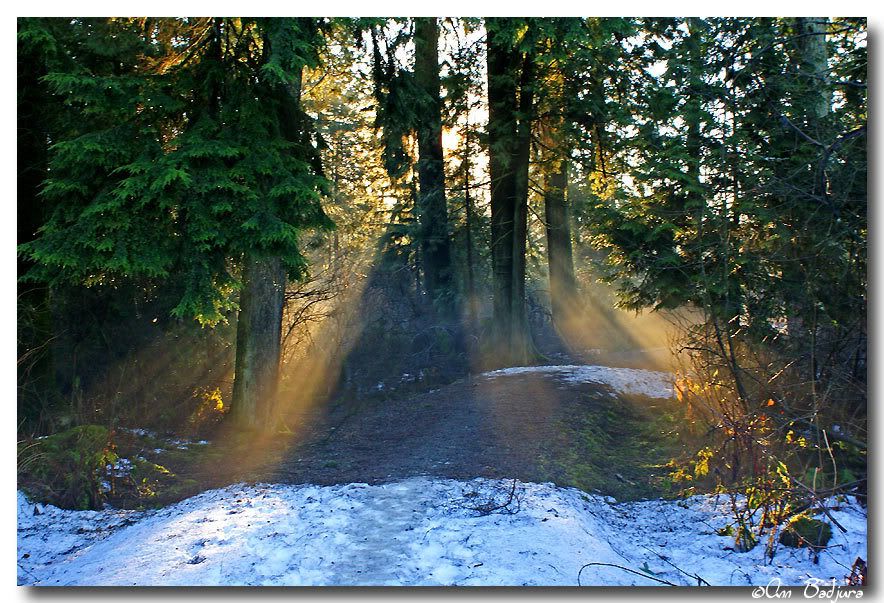 Stay tuned for my next post!