~Please click on the photos to see a larger version of it!
~AUB klik op de foto's om een grotere versie ervan te zien!

My favourite artist "Matthew Good" will come out with a new CD called "Vancouver" on October 6, 2009. He has his own website/blog and put a preview of the songs of this new CD online. I love the music, the songs and his voice. I'll definitely be buying this CD when it comes out. The cool thing is that he is a local Vancouver area artist. For those interested, please see his website @ http://www.matthewgood.org
In other music news I would like to share the fact that my former neighbour in Belgium is in a pretty cool heavy metal band called "Sons of Irah". I wish them all the best and hopefully lots of succes! For their website, please click here: -->Sons of Irah

Mijn favoriete artiest "Matthew Good" komt op 6 oktober 2009 uit met een nieuwe CD die "Vancouver" heet. Hij heeft zijn eigen website/blog en daar staat een preview met de liedjes van de CD online. Ik hou van zijn muziek, zijn nummers en zijn stem. Ik ga die nieuwe CD zeker kopen als die uit komt. Het toffe is dat hij van de Vancouver area is. Voor diegene die geinteresseerd zijn, bezoek zijn website op http://www.matthewgood.org
In ander muziek nieuws zou ik graag willen meedelen dat mijn vroegere buurjongen van Belgie deel uitmaakt van een heavy metal band die "Sons of Irah" heet. Ik wens hun het beste toe en hopelijk veel succes voor de toekomst! Voor hun website, klik hier: -->Sons of Irah
Raoul (my former Belgian neighbour) plays the guitar for Sons of Irah
(photo comes from their website!)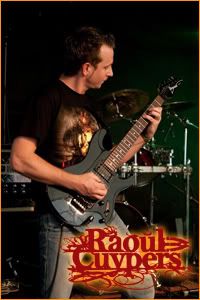 There is nothing much to report since my last post. I have been busy working and Michael is quite busy at work now too since school has started. I have been working weekends as well, so we haven't gone for any adventures. I work until Sunday and after that I'll be off for a little while again. I am sure we'll be going for some hiking trips during the weekends if the weather is nice. We have been to Burnaby Lake a couple of times for a walk and to enjoy the sunset which is always great. Michael takes a camera as well and he seems to be enjoying taking some pictures too…although he always ends up taking some goofy photos of me. Last week we went shopping to the States on Thursday with Michael's mom, we wanted to buy some stuff that's cheaper over there compared to Canada. So sometimes it's worth the 45 minute trip to Bellingham. With a bit of a wait at the borders it usually takes us about 1 hour to get to Bellingham from our place. It's always fun to go shopping in the States as they have even more selections than we have over here. Well, I suppose that's all the news for now.

Er is niet veel nieuws sinds mijn laatste post. Ik heb het vrij druk met werken en Michael heeft het ook druk genoeg op zijn werk nu dat de school weer terug bezig is. Ik heb in de weekenden moeten werken, dus we zijn nergens op avontuur kunnen gaan. Ik werk nog tot zondag en dan ben ik weer vrij voor een tijdje. Ik ben er zeker van dat we nu en dan eens zullen gaan wandelen in de weekends als het weer mooi is. We zijn wel een paar keer gaan wandelen bij Burnaby Lake om van de zonsondergang te genieten wat altijd erg aangenaam is. Michael neemt nu ook een camera mee en hij vindt het ook wel fijn om wat foto's te nemen...alhoewel hij regelmatig grappige foto's van mij probeert te nemen. Vorige week zijn we gaan winkelen in Amerika op donderdag met Michael zijn moeder. We wilden daar nog een paar dingen kopen die daar een stuk goedkoper zijn vergeleken met Canada. Dus soms is het die 45 minuten rijden wel waar om naar Bellingham te gaan. Met een beetje aanschuiven aan de grens inbegrepen zijn we toch meestal op 1 uur rijden van ons thuis in Bellingham. Het is altijd plezant om te gaan winkelen in Amerika want daar hebben ze nog meer keuzes dan hier. Zo, dat is het nieuws voor nu.


A while back I saw the documentary on Luna an orca on the TV and it was so interesting. Luna was a lonely orca that lived in the waters just off the coast of British Columbia, Canada and was separated from his family for some reason. Being so lonely he tried to befriend people at the harbour near the coast, people loved it and the whale loved the attention as well. But in the end it's still a wild animal and the friendship between the orca and men killed him. Het got hit by one of the boats which was fatal for the orca. If you ever get the chance to see this documentary I would recommend it to anyone. You can see the trailer below here.

Een tijdje terug heb ik de documentaire van Luna de orca op TV gezien en die was zo interessant. Luna is een eenzame orca die in de waterwegen woont aan de kust van British Columbia, Canada. Voor 1 of andere reden is hij van zijn familie verwijderd geraakt. Omdat hij zo eenzaam was zocht hij contact met mensen van de haven dichtbij de kust, de mensen vonden dit geweldig en de orca ook. Maar jammer genoeg blijft zo'n orca een wild dier en de vriendschap met mensen is dat waar hij aan gestorven is. Hij is geraakt geweest door 1 van de boten wat fataal was voor de orca. Als je ooit de kans krijgt om die documentaire te zien, dan raad ik die erg aan. Je kan de trailer hier beneden zien
Stay tuned for my next post!