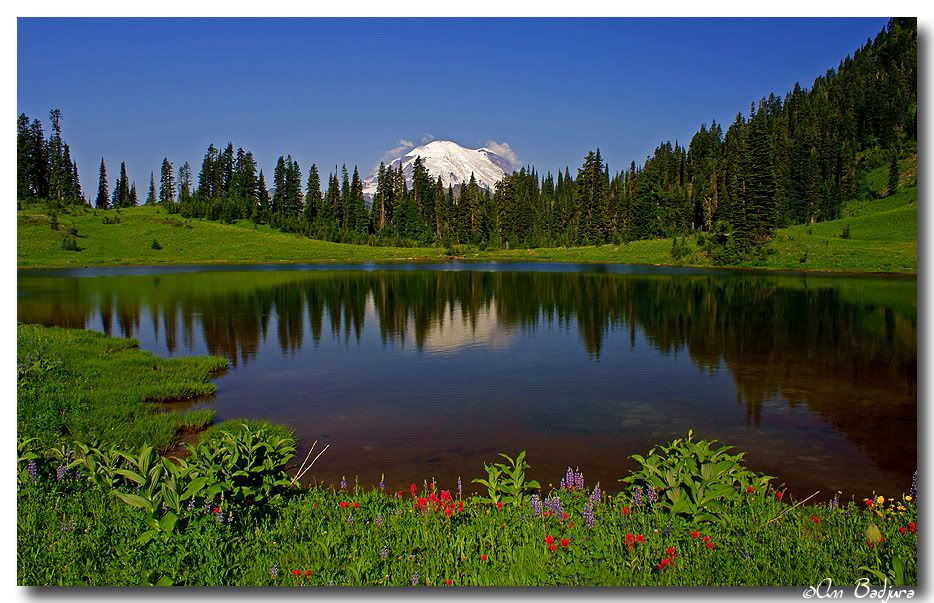 Unbelievable that it's August already...the time sure goes fast. Anyway, we returned from 5 days in beautiful Mount Rainier National Park in Washington State a few of days ago and it was amazing. We had so much fun and seen so many beautiful spots. In this blog post I will give a bit of a day by day report on our trip:

Day 1: Monday – July 27/09 (part 1): We got up around 6.00am so we could get a fairly early start. The trip to Mount Rainier was about 375km (235mi) from our place and it would take about 4 hours to drive (without stopping). After we got everything stacked into the car and locked everything up it was time to leave. We left the house around 7.30am and on the way we heard on the radio that the borders to the States were quite busy and there was a line up of about 45 to 50 min. already. Darn, we didn't like that too much, but by the time we got there (around 8.00am) it only took about 20 minutes to get through the border which wasn't bad at all. So around 8.20am we were in the States and on our way to Mount Rainier. Our first stop was the Auburn Supermall which was about 250km (156mi) driving and approximately 3 hours to get there. On the way we stopped at one of the rest areas just to stretch our legs. We got to the mall around 11.10am where we first had some lunch as we had such an early breakfast. After that we walked around for a little while and did some shopping for during our trip. By 2.00pm we left the mall and were on our way to Mount Rainier National Park. As we came closer we had a bit of a view on Mount Rainier…WOW, I can't put it into words, but that mountain is so tall and so big…really amazing!

Het is ongelofelijk dat we ons al in augustus bevinden…de tijd gaat nogal snel voorbij. Wel, we zijn een paar dagen geleden terug gekomen van een trip van 5 dagen in Mount Rainier National Park in Washington State, USA. We hebben het naar onze zin gehad en we hebben zovele prachtige plekjes gezien. In deze blog post zal ik een beetje een dag voor dag verslag geven van deze trip.

Dag 1: Maandag – 27 juli/09 (deel 1): We waren om 6u30 opgestaand zodat we vroeg genoeg konden vertrekken. De trip naar Mount Rainier was ongeveer 375km van ons thuis en het zou zo'n 4 uren rijden zijn (zonder te stoppen). Nadat we alles in de auto geladen hadden en alles gesloten hadden was het tijd om te vertrekken. We zijn thuis vertrokken om 7u30 en onderweg hoorden we op de radio het druk was aan de grens naar Amerikamet zo'n 45 tot 50 minuten aanschuiven. Dorie, dat vonden we wel wat minder, maar tegen dat we daar aankwamen (rond 8u) was het maar een 20 minuten om over de grens te geraken, dus dat was niet slecht. Dus rond 8u20 waren we in Amerika en op weg naar Mount Rainier. Onze eerste stop plaats was the Auburn Supermall wat zo'n 250km is en een 3 uren rijden. Onderweg zijn we wel even gestopt bij een rest area om even onze benen te strekken. We kwamen aan bij het shopping centrum rond 11u10 waar we eerst wat zijn gaan lunchen want we hadden zo vroeg ontbeten. Daarna hebben we nog wat rondgewandeld en hebben we ook wat aankopes hebben gedaa voor tijdens onze trip. Tegen 14u waren we weer onderweg naar Mount Rainier National Park. Als we dichterbij kwamen konden we Mount Rainier een beetje zien...WAUW, ik kan het niet in woorden omschrijven, maar die berg was zo hoog en groot...echt ongelofelijk.

Day 1: Monday – July 27/09 (part 2): We stopped again in Enumclaw where we arrived around 2.30pm. We filled up the car and had a small bite to eat. Around 3.15pm we were on the way again and we saw Mount Rainier getting closer and closer...amazing! Around 4.00pm we entered Mount Rainier National Park where we drove on a beautiful road with thick forests on both sides. By 4.15pm we arrived at the Cayuse Pass in the park which is at an elevation of 4,675 ft / 1,425m where we stopped for another stretch and to take in the first amazing views of Mount Rainier. Wow, what a beautiful mountain and it's so huge. Mount Rainier is 14,411ft / 4,392m high and very impressive. We spend a little while gazing at this amazing sight and then we were on the way to Packwood where we reserved 4 nights at the Mountain View Lodge. We arrived at the Mountain View Lodge around 5.00pm and it looked like a really nice place surrounded by the forest. Our room had a king bed, a small kitchen, TV, air conditioning and a bathroom with tub and shower. The room looked really nice and clean, so we were happy and ready to enjoy our stay here.

Around 6.00pm we decided to drive into Mount Rainier National Park to spend a bit of time in the Paradise area which is about 45 min. driving. When we got to the turn off in the Stevens Canyon area we saw some signs about a road closure. Just our luck…the road to Paradise from this area is closed due to a landslide and if we wanted to get to this area we would have to drive all the way around and take Forest Road 52 from Packwood which would take about an hour and a half. Since it was about 6.30pm we decided not to drive all that way as it would get dark around 9.00pm. Instead we drove into downtown Packwood to see where the Forest Road 52 was located so we would know where to go the day after. We got a little lucky as we saw some Elk grazing around in town, which was so cool to see. We went to bed at a decent time so we could leave early enough in the morning.

Dag 1: Maandag – 27 juli/09 (deel 2): We stopten ook nog even in Enumclaw waar we rond 14u30 aankwamen. We hebben daar getankt en nog wat kleins gegeten. Rond 15u15 waren we weer onderweg en we zagen Mount Rainier steeds dichterbij komen...schitterend! Rond 16u reden we Mount Rainier National Park binnen op een mooie weg met dikke bebossing aan beiden kanten van de weg. Om 16u15 kwamen we aan bij de Cayuse Pass die op een hoogte gelegen is van 1,425m, hier hebben we onze benen nog even gestrekt. Op deze plek konden we ook genieten van de eerste schitterende zichten op Mount Rainier. Wauw, wat een prachtige berg en die is zo groot. Mount Rainier is 4,392m hoog en erg impressief. We hebben hier eventjes rond zitten staren naar de prachtige zichten en daarna waren we onderweg naar Packwood waar we 4 nachten gereserveerd hadden bij de Mountain View Lodge. We kwamen aan bij de Mountain View Lodge rond 17u en het zag er een mooie plek uit omgeving door een bos. Onze kamer had een king bed (erg groot), een kleine keuken, TV, air conditioning en een badkamer met bad en douche. De kamer zag er mooi en zuiver uit, dus we waren blij en klaar om van onze verblijf te genieten.

Rond 18u besloten we om naar Mount Rainier National Park te rijden om wat tijd door te brengen in de omgeving van Paradise wat ongeveer een 45 minuten rijden was. Toen we bij de afslag kwamen bij Stevens Canyon stond er een bord dat de weg gesloten was. Dat was pech hebben, de weg naar Paradise van hieruit was gesloten door een landslide en als we naar dit gebied wilden gaan moesten we helemaal omrijden via Forest Road 52 in Packwood, maar dit zou dan ongeveer anderhalf uur rijden zijn. Omdat het tegen dan al 18u30 vonden we het niet meer de moeite om die kant uit te gaan, want het wordt donker rond 21u. We zijn dan even naar het centrum van Packwood gereden om te zien waar de Forest Road 52 gelegen was zodat we wisten waar we morgen heen moesten. We hadden wat geluk om daar een paar Elk (hert) te zien grazen in dit dorp, dat was echt tof om te zien. We zijn op tijd gaan slapen zodat we 's morgens vroeg genoeg konden vertrekken.

Day 2: Tuesday – July 28/09: Today would be our first full day in Mount Rainier Park and we were looking forward to it. We took a cooler with us filled up with some drinks and our lunch. We had a fairly early start as we had to drive the long route to the park. We got to the park gates around 9.00am where we got our park ticket and a free map of the area. The entrance fee was $15 USD per car (including passengers) and this ticket was valid for 7 days. On our way to Paradise we stopped at a few viewpoints along the way including the beautiful Narada Falls. We wanted to get to the Paradise parking lot first as it can get busy there, so we would stop at the Narada Falls again on our way back to walk down to have a view from the bottom of the falls. Around 10.00am we arrived at the Paradise area.

First we walked into the Visitor Centre to see what kind of hiking trails we could enjoy up here. We decided to hike the Alta Vista Trail which is about 2.6km (1.6mi) and takes about 1 hour to return and the Nisqually Vista Trail which is about 2km (1.25mi) and takes about 45 minutes to complete. We started hiking around 10.30am and of course we took our time as I had to stop frequently to take some photos. We enjoyed all the amazing views of Mount Rainier and the wonderful carpets of colourful wild flowers. After that it was just after noon already, so we went to get the cooler out of the car and had some lunch. Lunch seemed so much more enjoyable with the great views around here. After lunch we made our way down to Reflection Lakes, on the way we stopped here and there at a nice viewpoint. We walked around at Reflection Lakes and after that we were on our way back to Packwood around dinner as we were quite tired and so hot. We made one more stop at the Narada Falls, to walk down the trail to have a better view of the falls. We went to bed again at a decent time, so we could get up around 7.00am the morning after.

Day 2: Tuesday – 28 juli/09: Vandaag was onze eerste volle dag in Mount Rainier National Park en we keken er naar uit. We namen de koelbox met ons mee met wat drinken erin en onze lunch. We hadden een vrij vroege start omdat we toch een heel stuk moesten rijden naar het park. We waren aan de ingang rond 9u en hier betaalden we dan voor ons ticket en kregen we een gratis kaart van het park. De ingang koste ons $15 USD (ongeveer 9 euro) en ons ticket was geldig voor 7 dagen. Onderweg naar Paradise stopten we hier en daar aan een zichtpunt, de Narada Falls inbegrepen. We wilden hier niet teveel tijd doorbrengen omdat we eerst naar het Paradise gebied wilden gaan want daar kan het al eens druk worden, dus we zouden op de terug weg nog even stoppen bij deze watervallen. Rond 10u waren we in het Paradise gebied.

Eerst zijn we een bezoekje gaan brengen aan het Visitor Centrum om te zien wat soort hiking trails (wandelroutes) we zouden gaan doen. We besloten om het Alta Vista Trail te wandelen van 2.6 km en dat zou een uur zijn om te wandelen, we gingen ook het Nisqually Vista Trail doen wat een 2km is en een 45 minuten wandelen. Dus die twee gecombineerd zou ons wel eventjes zoet houden. We begonnen rond 10u30 met wandelen en natuurlijk namen we onze tijd want ik moest toch regelmatig stoppen om foto's te nemen, he. We genoten enorm van deze wandelingen met prachtige zichten op Mount Rainier en de kleurrijke tapijten van wilde bloemen. Het was net na de middag als we onze wandelingen gedaan hadden en we hebben dan de koelbox gehaald en ons broodje gegeten. Het smaakt precies lekkerder als je je in zo'n mooie omgeving begeeft. Na lunch zijn we naar Reflection Lakes gereden, onderweg zijn we nog gestopt aan een paar zichtpunten. Eens bij de Reflections Lakes hebben we wat rondgewandeld en daarna was het bijna tijd voor avond eten. We zijn dan terug gereden naar Packwood want we waren vrij moe en hadden het zo warm. We zijn op de terugweg wel nog eventjes gestopt aan de Narada Falls waar we tot beneden aan de watervallen gewandeld zijn. We zijn op tijd gaan slapen want we wilden om 7u opstaan de dag erna.

Day 3: Wednesday – July 29/09: At 7.00am we got up, made our sandwiches, packed up the cooler and around 7.50am we were on our way. We wanted to spend our day at the Tipsoo Lake area and spend some time at the Ohanapecosh area on the way back. We were on our way to the Tipsoo Lake area which was about 45-50 minutes driving from our hotel. We did the Tipsoo Lake trail which is about 5.6km (3.5mi) and normally it would take about 2 hours to complete, but at our pace and taking photos on the way we spent quite some time on this trail. This area is beautiful and there was an abundance of wild flowers again, beautiful views on Mount Rainier and a lovely lake. This area is located at the Chinook Pass at an elevation of 5,430 ft / 1,656m, it seemed a little cooler up here and that was so nice. When we finished our hike around Tipsoo Lake and area we had lunch at one of the picnic tables in the area. After that we also walked part of the Naches Peak Trail and on the way back we walked partly along the road to get back to the car. We discovered another little lake on the other side of the road from Tipsoo Lake, so we didn't pass on that one to spend some time at this beautiful small lake. Apparently this lake is Upper Tipsoo Lake and the views from here were so beautiful. We were happy that we bumped into this lake…it's sooo beautiful.

It was late afternoon when we left this area satisfied from all the gorgeous views and not being that hot we left the area and stopped at the Ohanapecosh area on the way back to Packwood. We visited the Visitor Centre for a little while, walked the little loop of the Hot Springs and enjoyed the views over the Ohanapecosh River. After that we headed back to our hotel in Packwood where we had dinner and relaxed for a while. Later on in the evening, around 8.00pm we decided to walk to the centre of Packwood from our hotel which was about 1.5km (1mi) from where we stayed. We did a little bit of shopping to stock up on a few things for the last days in Mount Rainier National Park. We enjoyed an ice cream on the way back to the hotel and the sun was setting as well. Thankfully I took my camera with me and was able to take a few nice photos of Packwood at sunset. We went to bed again at a decent time as tomorrow would be our last full day in the park and we wanted to visit the Sunrise area.

Day 3: Woensdag – 29 juli/09: Om 7u waren we alweer op, we maakten onze broodjes, vulde de koelbox op en rond 7u30 waren we weg. We wilden onze dag doorbrengen in de omgeving van Tipsoo Lake wat ongeveer een 45-50 minuten rijden was van ons hotel. We wandelen daar het Tipsoo Lake trail wat ongeveer een 5.6km was en dit neemt normaal gezien een 2 uren in beslag om te wandelen, maar op ons tempoen door foto's te nemen onderweg duurde dat wat langer. Dit gebied is echt prachtig en daar was geen tekort aan de kleurrijke wilde bloemen, prachtige zichten op Mount Rainier en een mooi meer. Dit gebied ligt bij de Chinook Pass op een hoogte van 1,656m, het voelde hier wat koeler aan en dat was echt aangenaam. Als we gedaan hadden met onze wandeling rond Tipsoo Lake hebben we genoten van onze lunch op 1 van de picnic plaatsen hier. Daarna zijn we nog wat gaan wandelen en deden een deel van het Naches Peak Trail. Op de terugweg wandelden we een stukje langs de weg op om terug naar de auto te gaan. We ontdekten daar nog een ander meer aan de andere kant van de weg van Tipsoo Lake, dus dat lieten we niet aan ons voorbij gaan om hier wat tijd door te brengen. Dit bleek Upper Tipsoo Lake te zijn en de zichten van hier waren schitterend. We waren blij dat we hierbij uitgekomen waren...zoooo mooi.

Het was later in de namiddag toen we dit gebied volledig voldaan van al die prachtige zichten en wat aangenamere temperaturen verlieten. We stopten op de terug weg naar Packwood nog even bij het Ohanapecosh gebied. We bezochten hier het Visitor Centrum en wandelden de vrij korte loop van de Hot Springs en genoeten van zichten op de Ohanapecosh Rivier. Daarna zijn we terug naar ons hotel gereden om wat avond te eten en wat te relaxen. Later op de avond zo rond 20u besloten we om naar het centrum van Packwood te wandelen vanuit ons hotel wat ongeveer 1.5km was vanwaar wij verbleven. We hebben daar nog een beetje inkopes gedaan voor onze laatste dagen in Mount Rianier National Park. We genoten van een ijsje op de terug weg naar ons hotel en de zon ging ook net onder. Gelukkig had ik mijn camera bij en heb ik een paar foto's kunnen nemen van Packwood bij zonsondergang. We zijn dan weer op tijd naar bed gegaan omdat we de volgende morgen er weer op tijd uitwilden voor onze laatste volle dag in het park waar we het Sunrise gebied wilden bezoeken.

Day 4: Thursday – July 30/09: We got up again around 7.00am, got our lunch ready to go and stuffed up our cooler for the day. We left the hotel around 8.30am and it would take us about an hour and a bit to drive the Sunrise area in Mount Rainier National Park. We stopped at Sunrise Point just before arriving at the parking lot of the Sunrise area of Mount Rainier National Park. From up here you had an amazing view of Mount Rainier and the surrounding area. We could also see Sunrise Lake below and had a 360 degree view here which was very beautiful. This area is located at an elevation of 6,400ft / 1,950m. We drove another 5 minutes from here to arrive at the Sunrise parking lot from where several hikes start. There is a Visitor Centre here, a gift shop and a restaurant. We started hiking around 10.30am and we walked part of the Sunrise Rim Trail which was about 4.8km (3mi) and this took us about 1.5 to 2 hours. This trail provided us with some great views on Mount Rainier and more colourful carpets of wild flowers.

After that we had lunch at one of the picnic areas at Sunrise, too bad that there were so many flies up here bothering us half the time. After lunch we did some more hiking and walked the Sourdough Ridge Trail which was about 1.6km (1 mi) and would take about 1 hour to complete. We enjoyed the views from up here very much, but you couldn't stand still for too long or the mosquitoes and flies would get you. Around 4.00pm we had enough of the hiking and all the bugs that were bothering us. It was also really getting very hot again even at this elevation, so we decided to go back to our hotel as we still would have to have dinner and pack everything up for tomorrow as we were leaving to go home again.

Dag 4: Donderdag – 30 juli/09: We zijn weer opgestaan rond 7u, we maakten onze broodjes voor lunch en vulden de koelbox weer op voor vandaag. We vertrokken aan het hotel rond 8u30 en het zou een goed uur rijden zijn tot aan het Sunrise gebied in Mount Rainier National Park. We stopten aan Sunrise Point net voor de parking van het Sunrise gebied van Mount Rainier National Park. Van Sunrise Point hadden we prachtige zichten op Mount Rainier en de omgeving. We konden ook het mooie Sunrise Lake zien van hier en hadden zowat een 360 graden zicht van de omgeving wat erg mooi was. Dit gebied is gelegen op een hoogte van 1,950m. We reden nog een 5 minuten om aan te komen op de Sunrise parking vanwaar je verschillende wandelingen kan doen. Hier heb je ook weer een Visitor Centrum, een souvenier winkel en een restaurant. We begonnen met een wandeling rond 10u30 en volgden het Sunrise Rim Trail van ongeveer 4.8km wat ongeveer anderhalf uur tot 2 uur wandelen was. Tijdens deze wandeling hadden we geweldige zichten op Mount Rainier en meer van die prachtige kleurrijke tapijten van wilde bloemen.

Daarna hebben we onze lunch gegeten aan een picnic gebied van Sunrise, jammer dat de vliegen ons nogal verveelden. Na lunch hebben we nog een wandeling gedaan en deze keer deden we het Sourdough Ridge Trail wat ongeveer 1.6km was en ongeveer een uur wandelen. We genieten van de zichten hierboven, maar we konden niet lang stil staan of we werden gepest door de vliegen en muggen. Rond 16u hadden we genoeg van het wandelen en al die insecten. Het begon ook weer echt erg warm te worden zelfs op zo'n hoogte, dus we besloten om terug naar ons hotel te gaan omdat we nog avond moesten eten en dan was het tijd om in te pakken want morgen vertrokken we weer naar huis.

Day 5: Friday – July 31/09: We got up around 6.00am so we could get an early start. After we packed everything we left around 7.15am. Apparently a forest fire broke out the night before at the Ohanapecosh area due to lightning. As we drove away from our hotel we could see the smoke/clouds hanging in front of the mountains from this fire and you could really smell it too. Our first stop would be the Auburn Supermall again as I had to return a memory card that I bought on the way here, but gave a "card error" on my camera. We got to this place around 9.00am. We also shopped a little for things that we wanted to take home. After that we made our way to the Seattle Premium Outlet mall where we arrived around 11.00am. We walked around here, visited the huge Wal-Mart here where we stocked up on some more stuff and we had some lunch at the mall as well. We left this area around 1.00pm and around 2.30pm we were at the border. There was a wait of about 10 minutes and we got back into Canada without any problems. We were home around 3.00pm. We had such a great time at Mount Rainier National Park and enjoyed the amazing views, but it's always nice to come home again too.

Dag 5: Friday – 31 juli/09: We stonden op rond 6u zodat we vroeg genoeg konden vertrekken. Nadat we alles hadden ingepakt zijn we rond 7u15 vertrokken. De avond ervoor was er blijkbaar in het Ohanapecosh gebied een bosbrand uitgebroken die veroorzaakt was door bliksem. Als we wegreden van ons hotel konden we de rook/wolken zien hangen voor de bergen van deze brand en je kon het ook goed ruiken. Onze eerste stop was bij de Auburn Supermall omdat ik een memory card die ik op de heenweg had gekocht wou terug brengen want die gaf een "card error" op mijn camera. We waren op deze plaats rond 9u. We hebben daar ook nog een beetje gewinkeld voor dingen die we mee naar huis wilden nemen. Daarna zijn we naar de Seattle Premium Outlet mall gereden en we kwamen daar aan rond 11u. We hebben daar wat rondgewandeld, bezochten daar een enorm grote Wal-Mart waar we ook nog wat dingen kochten en we hadden ook geluncht bij dit winke centrum. We vertrokken hier weer rond 13u en rond 14u30 waren we aan de grens. Het aanschuiven was minimaal en in een 10 minuten waren we weer terug in Canada zonder problemen. We waren rond 15u weer thuis. We hadden het erg naar onze zin in Mount Rainier National Park en hebben vooral genoten van al die schitterende zichten, maar het was ook weer fijn om thuis te komen.
Klik hier voor een volledig foto ablum van ons bezoek aan Mount Rainier National Park ---> Foto's Mount Rainier National Park
Click Here for a full photo album of our visit to Mount Rainier National Park ---> Photos Mount Rainier National Park