~Please click on the photos to see a larger version of it!
~AUB klik op de foto's om een grotere versie ervan te zien!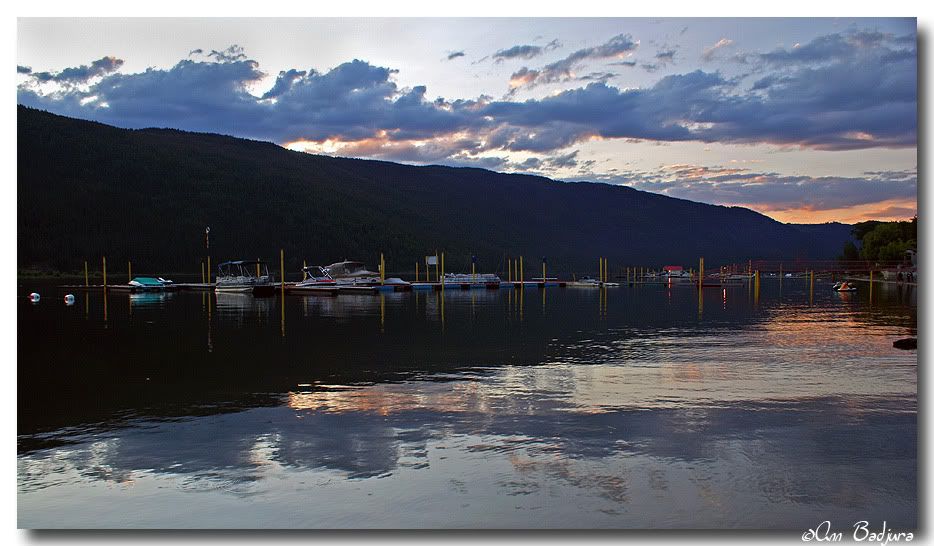 We just returned from a week at Mara Lake a couple of days ago. Mara Lake is a wonderful lake located about 500km (312mi) east of Vancouver in the North Shuswap Region. We go to Mara Lake every year together with Michael's parents as it's a family get together with some of my mother in law's sisters from Alberta en Saskatchewan. It's always a very relaxing week and we don't do very much that week. We go for a nice walk everyday, spent some time at the beach and take a swim in the lake if the weather is permitting and just sit and chat with the family. We rent a cabin at Willow Shores Resort and it's usually very quite there around this time of the year. We left on June 23rd around 7.30am, it wasn't too warm and there were some clouds around…perfect weather for driving. Our first stop was at the Britton Creek rest area just past the former Coquihalla toll plaza. The views along the way are always so beautiful and I can never get tired of it. After a little rest at the Britton Creek rest area we continued along the Coquihalla Highway towards Kamloops where we would stop for lunch. By that time we have been driving for about 3 hours and 30 minutes. After lunch we left for Salmon Arm which is about half an hour from our final destination. We do our grocery shopping here and we do some walking. We arrived at Mara Lake around 3.00pm and the other family was there already too.


We zijn net een paar dagen geleden terug gekomen van een weekje aan Mara Lake. Mara Lake is een prachtig meer wat ongeveer 500km ten oosten van Vancouver gelegen is in de North Shuswap regio. We gaan elk jaar naar Mara Lake samen met Michael zijn ouders omdat het een familie samenkomst is met een paar zussen van mijn schoonmoeder van Alberta en Saskatchewan. Het is altijd zeer relaxerend en we doen die week niet veel. We gaan elke dag wel wandelen, we gaan het strand op en als het weer meezit gaan we ook wat zwemmen in het meer en we genieten gewoon van de gezellige babbels met de familie. We huren een chalet bij Willow Shores Resort en meestal is het rustig rond die tijd van het jaar. We vertrokken op 23 juni om 7u30 's morgens, het was niet te warm en er waren wat wolken...ideaal weer om te rijden. Onze eerste stop was bij de Britton Creek rest area net voorbij de voormalige Coquihalla toll plaza. De zichten zijn altijd zo mooi onderweg en die wordt ik nooit moe. Na onze stop bij de Britton Creek rest area gaan we verder op de Coquihalla Highway richting Kamloops waar we stoppen voor lunch. Tegen die tijd hebben we zo'n 3 uren en 30 minuten gereden. Na onze lunch vertrokken we dan richting Salmon Arm wat ongeveer een half uurtje van onze eind bestemming af is. Hier doen we dan alle boodschappen en wandelen we wat rond. Rond 15u waren we bij Mara Lake en de familie was ook net aangekomen.
A view of Mount Baker (located in the USA) in the Abbotsford area


During our week at Mara Lake we didn't do too much, we went to Sicamous and Salmon Arm to walk around and do a bit of shopping. We usually go for a walk to Mara Lake Provincial Park every day and we did some swimming in lake the last couple of days when it really got hot and sunny. For the rest we just sit in a mosquito tent with the family and just chat away and have a good laugh. One day Michael and I were sitting outside the cabin and I heard something dropping into the grass…it was a funny looking caterpillar. Michael put him on a stick and we were intrigued by it. We even gave him a name: Ernie. So, now we had a little caterpillar named Ernie…hahaha. Ernie seemed to love to crawl around on that stick. After some time we just let him go about his own way, I am sure he didn't like to be on that stick all day…poor Ernie. In the weekend I had 2 lovely Dutch ladies visiting me with their husband. I met them through a Dutch forum and these ladies also live in Canada. One of them is from Alberta and happened to be camping somewhere in the area and the other one lives in Vernon which is not very far from where we were. We had a great evening and I thought it was so great that they were willing to come and see me. On June 30th we left Mara Lake and made our way back to Vancouver. It was quite a hot day and we had blue skies with a few clouds which was great to enjoy the scenery on the way. We got home around 3.00pm, it's always good to come home again.

Tijdens onze week aan Mara Lake hebben we niet veel gedaan, we zijn naar Sicamous en Salmon Arm geweest om wat te wandelen en te winkelen. We gingen elke dag voor een wandeling naar Mara Lake Provincial Park en de laatste paar dagen zijn we ook kunnen gaan zwemmen in het meer omdat het echt warm en zonnig was. Voor de rest zaten we in de muggentent bij de chalet met de familie en genoten we van een gezellig babbel en gelach. Michael en ik zaten buiten aan de chalet op 1 van de dagen en hoorde iets in het gras vallen...het een soort duizendpoot. Michael had hem op een stokje laten kruipen en wij waren erg in de ban van dit wezentje. Zo erg zelfs dat we hem een naam hadden gegeven: Ernie...hahaha. Ernie vond het precies wel leuk om op en neer te kruipen op die stok. Na een tijdje hebben we hebben maar laten doen, want ik denk niet dat hij de hele dag op die stok wou verblijven...arme Ernie. In het weekend hadden we bezoek gekregen van 2 Nederlandse dames met hun man. Ik had hen leren kennen via een Nederlands forum, maar deze dames wonen ook in Canada. Eentje was van Alberta maar was op vakantie in de omgeving waar wij verbleven en de andere dame woont in Vernon wat niet ver is van waar wij verbeven. Het was een super gezellige avond en ik vond het geweldig dat ze mij wilden komen bezoeken. Op 30 juni zijn we vertrokken bij Mara Lake richting Vancouver. Het was een vrij warme dag en we hadden blauwe lucht met een paar wolkjes wat prachtig was om van de landschappen te genieten. We waren rond 15u weer terug thuis, het is altijd goed om weer thuis te komen.
People at the beach at Mara Lake Provincial Park

Sunset over Mara Lake seen at the beach from Willow Shores Resort

The two Dutch ladies who came to visit me and myself

A park with a fountain in Salmon Arm

Some of the homes at the beach of Willow Shores Resort at Mara Lake

A view of Kalamalka Lake near Vernon on the way home

View of the mountains as we are near Hope

Stay tuned for my next post!