~Please click on the photos to see a larger version of it!
~AUB klik op de foto's om een grotere versie ervan te zien!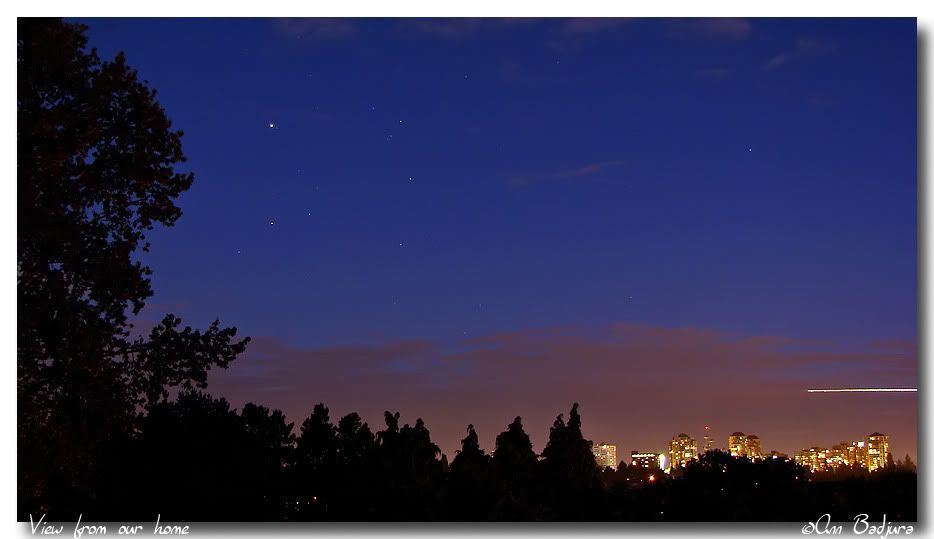 Time for an update again. Ever since we got back from Mara Lake I have been busy working. I am practically working a full time line now and filling in for someone who had an operation. The weather has been so nice lately too, but I haven't had much time to enjoy it due to work. Soon we'll be going to Mount Rainier National Park and I am sure we'll enjoy that to the fullest. On the 14th of July it was our 4th wedding anniversary, but since I worked afternoons that day we celebrated it a little bit on Sunday. We went for dinner and to the movies. First we wanted to see "Transformers", but then we felt more like a laugh so we went to see "The Hangover" which was pretty funny and we had some good laughs. I am sure we'll go to see "Transformers" on a later date, it looks like a good action movie.

Our roses are in full bloom in the garden and it looks so pretty. We have red roses, lilac coloured roses, yellow roses, white roses with pink edges and pinkish roses. Usually they start blooming in June and they bloom all the way into October.


Het is wee tijd voor een update. Sinds we terug zijn van Mara ben ik weer hard aan het werk. Ik werk zo goed als voltijdse uren omdat ik voor iemand inval die een operatie gehad heeft. Het weer is de laatste tijd ook heerlijk, maar ik heb weinig tijd om er van te genieten met al dat werken. Binnekort gaan we naar Mount Rainier National Park en ik ben er zeker van dat we daar met volle teugen van zullen genieten. Op 14 juli was het onze 4de huwelijks verjaardag, maar ik moest op die dag in de namiddag werken en we hebben het de zondag ervoor een beetje gevierd. We zijn gaan uit eten en een film gaan kijken. We wilden eerst "Transformers" gaan kijken, maar we hadden meer zin in een grappig film, dus zijn we naar "The Hangover" geweest en die was inderdaad grappig. We zullen de "Transformers" in de komende weken nog wel gaan kijken, want die ziet er ook goed uit.

Onze rozen in de tuin staan in volle bloei en het ziet er zo mooi uit. We hebben rode rozen, lila kleurige rozen, gele rozen, witte roze met roos randen en rozige rozen. Meestal beginnen ze te bloeien in juni en die bloeien tot in oktober.
Some of the roses in full bloom in our garden


On July 4th one of my long time online friends from Belgium "Nancy" arrived in Canada with her husband for a trip in West Canada. They are going to make a trip from Vancouver all the way to Winnipeg where one of her best friends lives. This trip is also a bit of an orientation to see how they like Western Canada. Nancy would love to move to Canada, she's been in Canada before (Winnipeg), but it's the first time for her husband. Nancy's husband has a cousin in the Vancouver area and they were staying with them until July 6th and then they would head out for Kelowna in the afternoon. I was off that Monday July 6th, so I met up with her, her husband and his cousin and husband. Sadly enough the weather wasn't very nice, it was cloudy and drizzly. We went to Burnaby Mountain, Barnet Marine Park and after that we went for lunch at White Spot. It was so much fun and it was so great to finally meet her and her husband. I hope the rest of their trip went well and they are having fun.

Een online vriendin van me "Nancy", die ik al een paar jaar ken van Belgie is op 4 juli aangekomen in Canada met haar man voor een reis in West Canada. Ze gaan een trip maken van Vancouver helemaal naar Winnipeg waar 1 van haar beste vriendinnen woont. Deze trip is ook een beetje om te kijken wat ze van West Canada vinden. Nancy wil heel graag naar Canada verhuizen, ze is er al eens geweest (in Winnipeg), maar het is de eerste keer voor haar man. Nancy haar man heeft een nicht in Vancouver wonen en daar bleven ze tot 6 juli om dan naar Kelowna te vertrekken in de namiddag. Ik had maandag vrij, dus we spraken in de voormiddag af samen met haar man, zijn nicht en haar man. Jammer genoeg was het bewolkt en miezerig weer. We zijn naar Burnaby Mountain geweest alsook naar Barnet Marine Park en daarna zijn we gaan lunchen bij "White Spot" Het was echt plezant en het was zo plezant om haar en haar man eindelijk te ontmoeten. Ik hoop dat de rest van hun reis ook goed gegaan is en dat ze het naar hun zin hebben.
Nancy and her husband and his family

Barnet Marine Park on a dreary day

Stay tuned for my next post!