~Please click on the photos to see a larger version of it!
~AUB klik op de foto's om een grotere versie ervan te zien!

Yesterday (Monday), my friend Ineke and I went to Golden Ears Provincial Park for a walk and a picnic. We had clear blue skies and temperatures around 20 C (about 70 F) We took 2 of her Jack Russell doggies with us (Bella & Dax) to this park. We left her place around 10.30am and arrived at the Gold Creek day use area at 11.30am. Instead of going to the North Beach area as usual, we decided to follow the Lower Falls Trail which we both didn't do yet. The Lower Falls trail is about 2.7km (1.7mi) one way and at the end of the trail there is a beautiful view of those Lower Falls who are about 10m (30ft) high. The trail started off through the forest and from about half way we were walking all the way along the creek. There is a nice little beach along the creek about halfway which would be perfect for our picnic on the way back. We arrived at the waterfalls after about 1 hour walking and taking a few stops for some photos into count. The views along the trail and of the falls were beautiful. This is the map from google on how to get to this place from downtown Vancouver --> Directions to the Lower Falls Trail head

Gisteren (maandag), zijn mijn vriendin Ineke en ik naar Golden Ears Provincial Park geweest voor een picnic. We namen 2 van haar Jach Russell hondjes mee (Bella & Dax) naar dit park. We vertrokken bij haar om10u30 en we waren rond 11u30 op de parking bij het Gold Creek day use area. In plaats van onze gewoonlijke wandeling te doen naar het Noord Strand (North Beach), besloten we om het Lower Falls Trail te volgen omdat we dit beiden nog niet gedaan hadden. Het Lower Falls trail is ongeveer 2.7km enkele weg en op het einde van het trail is er een mooi zicht op die Lower Falls die zo'n 10m hoog zijn. Het trail begon met een wandeling door het bos en ongeveer halverwege liepen we volledig langs de creek op. Er is een een klein strand langs de creek ongeveer halverwege het trail wat prima zou zijn voor een picnik op de terugweg. Na ongeveer een uurtje te wandelen kwamen we bij de watervallen aan, met de nodige stops voor wat foto's onderweg inbegrepen. De zichten langs het trail en aan de watervallen waren prachtig. Dit is een kaart van google met de weg aanwijzigingen naar deze plaats vanuit het centrum van Vancouver --> De route naar het startpunt van de Lower Falls Trail



View of the mountains
View along the creek as we approach the waterfalls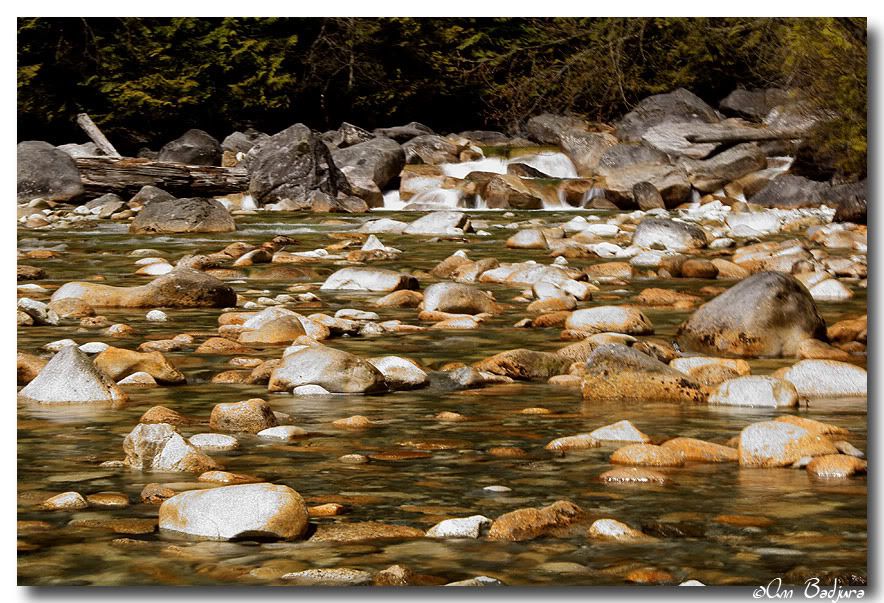 Cute little Bella posing on the rocks in the creek
View of the beautiful Lower Falls

Ineke and I at the Lower Falls

Another view of the Lower Falls

On the way back from the falls to the parking lot we stopped at that little beach to have a picnic. We brought some plastic and a towel to sit on. It was so nice and warm in the sun to sit there and relax for a while. There was a small area in the creek with some stagnant water where the dogs could play and swim…they had so much fun and we had fun watching them. We sat here for quite some time and after that we walked back to the car. We left Golden Ears Park about 2.30pm. We had a great time and I enjoyed myself so much with her. Too bad that Ineke will be moving back to the Netherlands in about 9 weeks from now, I will miss here soooo much!

Op de terugweg van de watervallen naar de parking zijn we gestopt aan dat kleine strand om te picnikken. We hadden plastieken zak meegebracht en een handdoek om op te zitten. Het was lekker warm zitten zo in de zon en heerlijk om even te relaxen. Er was een klein gebied in de creek met stilstaand water waar de hondjes konden zwemmen en spelen...zij amuzeerden zich super en het was plezant voor ons om hen bezig te zien. We hebben daar een heel tijdje gezeten en daar zijn we terug gewandeld naar de auto. We vertrokken uit Golden Ears Park rond 14u30. We hadden het erg naar onze zin en ik het was erg gezellig met haar. Jammer dat Ineke weer naar Nederland gaat verhuizen binnen zo'n 9 weken, ik ga haar heeeeeel erg missen!
A view on the way back to the little beach
Dax watching the backpack while we took a few photos

Bella posing so nicely on a rock in the forest
View from where we sat during the picnic...my feet and Bella walking
Another view from the small beach during our picnic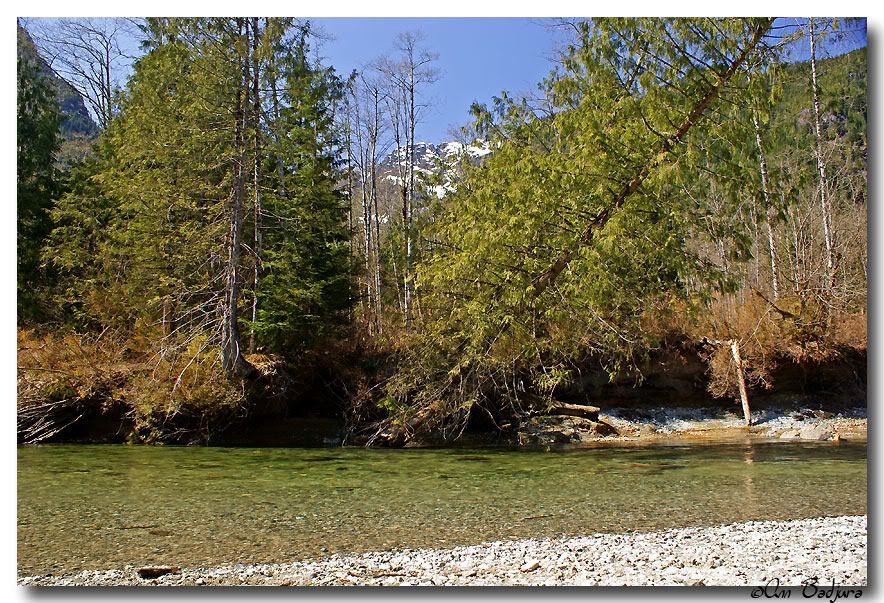 The stagnant pool where the doggies had fun swimming

One last view along the creek before leaving

A view of the forest and the trail on the way back to the car

In the weekend I had to work afternoons, so we didn't do very much...but there were a few nice happenings. On Saturday morning we went to the Queens Park Antique Show which was interesting to see. Lots of stuff there, but quite expensive…we usually don't go to buy, but just to look around. On Sunday morning it was a nice morning so we decided to go and have a look at some houses in Anmore (Port Moody) near Buntzen Lake and about 15-20 minutes driving from our place. There are many beautiful, but very expensive home. There happened to be an "Open House" at one of these houses, so we decided to stop and go in for a look. WOW, that's like my dreamhouse...soooo beautiful. The house itself without the lot is about 6000 sqaure feet (557, 5 square meter) big. Way too big and way too expensive of course, but it was interesting to see and to have a look through a beautiful and big home like this. After that we drove down to Buntzen Lake which was only 1km (0.6mi) from there and I took a few photos. If you have some time you should have a look at this link which shows a slideshow of the interior of this beautiful house: Photos of the interior of this house


In het weekend moest ik in de namiddag werken, dus we hebben niet zoveel gedaan…maar er waren toch een paar gebeurtenissen. Op zaterdag was er een Antiek Show in Queens Park, daar zijn we dan even naartoe geweest. Er waren vele dingen te zien, maar vrij duur...meestal kopen we niets, maar we gaan wel graag om eens te kijken. Zondag voormiddag was het mooi buiten en hadden we besloten om eens tot Anmore te rijden (Port Moody) om naar wat huizen te kijken in de buurt van Buntzen Lake... di is een 15-20 minuten rijden van ons thuis. Hier vind je vele prachtige huizen, maar ze zijn erg duur. Nu was er toevallig een "Open House" bij 1 van die prachtige huizen. Een Open House is dat je binnen kan gaan kijken zonder verplichtingen...het is een soort opendeur dag van dit huis. Dus, wij besloten om binnen eens een kijkje te gaan nemen in dit prachtige huis. WOW, dat zou wel eens mijn droomhuis kunnen zijn...zooo mooi. Het huis alleen heeft een totale oppervlakte van 557,5 vierkante meter zonder dat je de grond erbij telt. Dat is eigenlijk veel te groot en ook veel te duur natuurlijk, maar het was wel interessant om door dit prachtige huis te kunnen wandelen. Daarna zijn we nog even doorgereden naar Buntzen Lake op 1km van dat huis en daar heb ik nog een paar foto's genomen. Als je tijd hebt moet je eens kijken op deze link met een slideshow van de binnekant van dat mooie huis: Foto's van het interieur van dat huis