Finally, it's raining! I never thought I'd say that, but I just did...hehe. After being snowed in for the past 3 weeks I am glad that the snow is slowly melting right now. It's nice to get some snow, but after 3 weeks of getting a big dump of snow every few days it's not so nice anymore. I haven't been able to drive my car for the past couple of weeks because our back alley is still so full of snow. I was brave on New Years Day when I had to work in the afternoon and decided to drive. Well, that was a mistake as I got stuck half way down our back alley…I couldn't go forward nor backwards.

Eindelijk, het regent! Ik had nooit gedacht dat ik dat zou zeggen, maar ik heb het net gezegd…hehe. Nadat we ingesneeuwd zijn voor 3 weken ben ik blij dat het nu stilletjes begint te smelten. Het is wel mooi om wat sneeuw te hebben, maar na 3 weken telkens een lading sneeuw te krijgen elke paar dagen is het toch niet meer zo plezant. Ik heb sinds 3 weken niet meer met de auto kunnen rijden omdat ons achterstraat nog zo vol met sneeuw ligt. Op Nieuwjaarsdag moest ik in de namiddag werken en ik was moedig en had besloten om zelf te rijden. Wel, dat was geen goed idee want ik zat halverwege ons achterstraatje vast...ik kon niet meer vooruit of achteruit.
A view from our back alley (still lots of snow around)


Thank goodness Michael was watching me from our house and he could see that I got stuck. He went to get a shovel to help me out. There was a nice guy that just happened to be shoveling snow near his garage in our back alley who offered to help as well. He helped Michael shoveling around my car and he got some good wooden boards that he stuck under my front tires so I could get more of a grip. After numerous attempts that didn't really help much…so they kept on digging to really get those boards under my tires. After about 15-20 minutes I was able to drive away and I could hear Michael say, "just keep on driving, don't stop!"…that's exactly what I did and so I made it out of our back alley and got to work safe. I also made it home by car, so it worked out okay. But for now I am just going to wait until lots of snow has disappeared in our back alley before I will drive again. I took the bus for the rest of the day and one of my co-workers dropped me off at home after work, which was really nice.

God zij dank dat Michael keek hoe ik het deed van bij ons thuis en hij kon zien dat ik vast zat. Hij is dan de schup gaan halen om mij te komen helpen. Daar was nog een vriendelijke man die sneeuw aan het ruimen was dichtbij zijn garage waar ik vast zat en die bood ook hulp aan. Hij heeft Michael dan geholpen om de sneeuw rond mijn wagen weg te ruimen en hij had ook een paar houten borden om onder mijn wielen te steken zodat ik meer grip zou hebben. Na enkele keren proberen ging het niet echt, dus ze bleven maar weg schuppen zodat die borden echt goed onder mijn banden zaten. Na een 15-20 minuten kon ik eindelijk weg rijden en ik hoorde Michael nog zeggen "Gewoon blijven rijden, niet stoppen!"...dat heb ik precies gedaan en zo ben ik uit onze achterstraat geraakt en veilig op mijn work gedaan. Ik ben ook goed thuis geraakt na mijn werk, dus dat was gelukkig allemaal in orde. Ik heb sinds toen de bus naar mijn werk genomen en 1 van mijn collega's heeft me dan thuis afgezet na mijn werk...dat was lief!

We had another snow fall of about 10 inches on the night of January 4. Unbelievable how much snow we have had so far, there must be about 3-4 feet on the ground and we don't know what to do with it anymore. We keep on piling it up in our back yard, along our sidewalk and anywhere there is a spot for it. Michael and I also tried to make a snow man, but the snow is not sticking enough and we managed to create a little snow man which looked more like a snow rabbit…haha! Today it has warmed up to temperatures above freezing and on top of that it's pouring rain. This will help to get rid of some of the snow, but now there is a problem of flooding in the streets and basements of houses…so hopefully we won't have any of that. Lots of streets look more like small creeks or small lakes due to all the rain and melting snow. Hopefully everything will just fall into place.

In de avond en nacht van 4 januari hebben we nog eens een 25cm sneeuw bijgekregen. Ongelofelijk hoeveel sneeuw dat we tot nu toe gehad hebben, er ligt zeker een meter of zelfs meer op de grond en we weten niet meer wat te doen met al die sneeuw. Wij blijven het maar ophopen in onze tuin, langs het paadje rondom ons huis of eender waar we het kwijt kunnen. Michael en ik hadden nog geprobeerd om een sneeuwman te maken, maar de sneeuw plakt niet genoeg en we hebben toch een klein sneeuwmannetje kunnen maken wat meer op een sneeuwkonijn leek...haha! Vandaag is het wat gaan opwarmen met temperaturen boven het vriespunt en daar bovenop stort regent het. Dit zal wel helpen om van wat sneeuw af te geraken, maar nu is er dan een gevaar voor overstromingen in de straten en kelders van huizen...hopelijk zullen we daar geen last van krijgen. Vele straten zien er meer uit als beken of meren door al die regen en smeltende sneeuw. Hopelijk zal snel alles weer zijn gewone gang gaan.
Some more photos from the last snow fall (and our snow rabbit)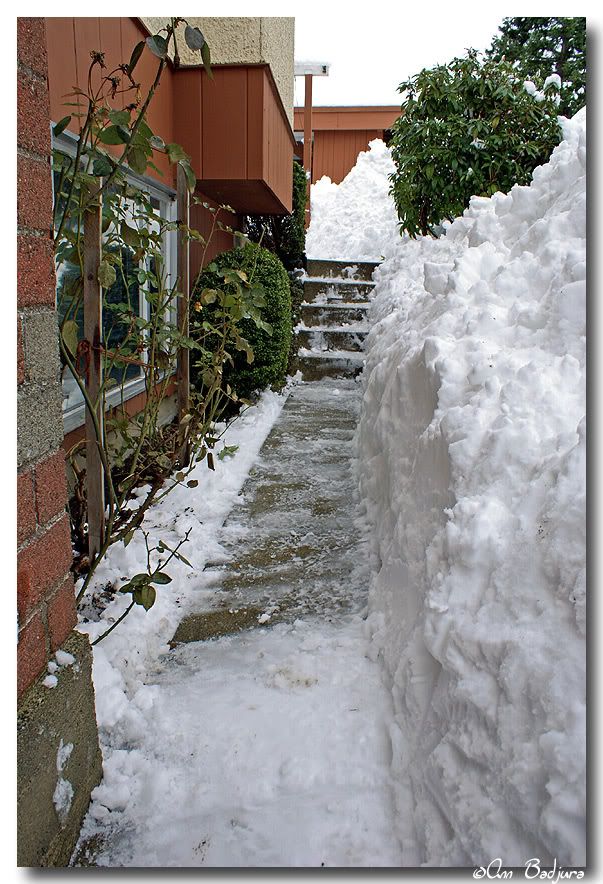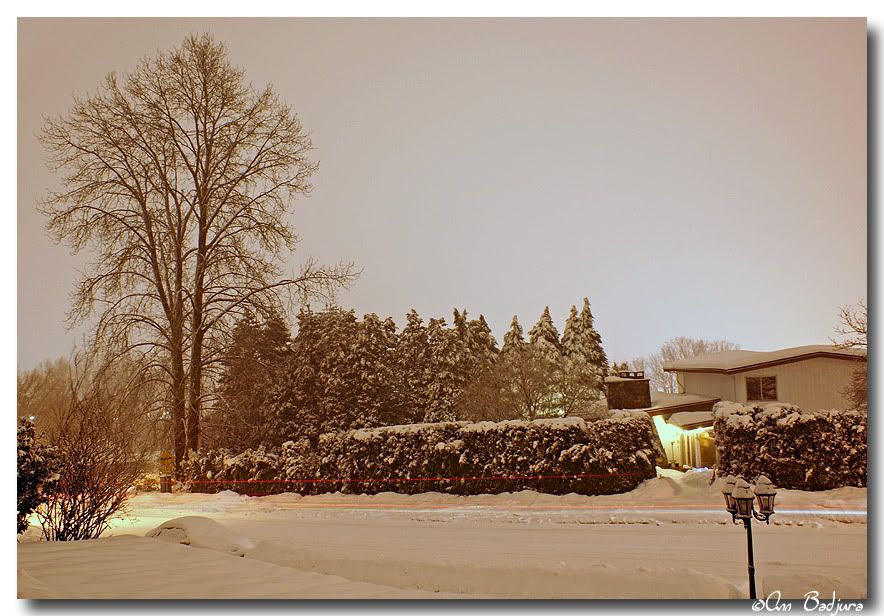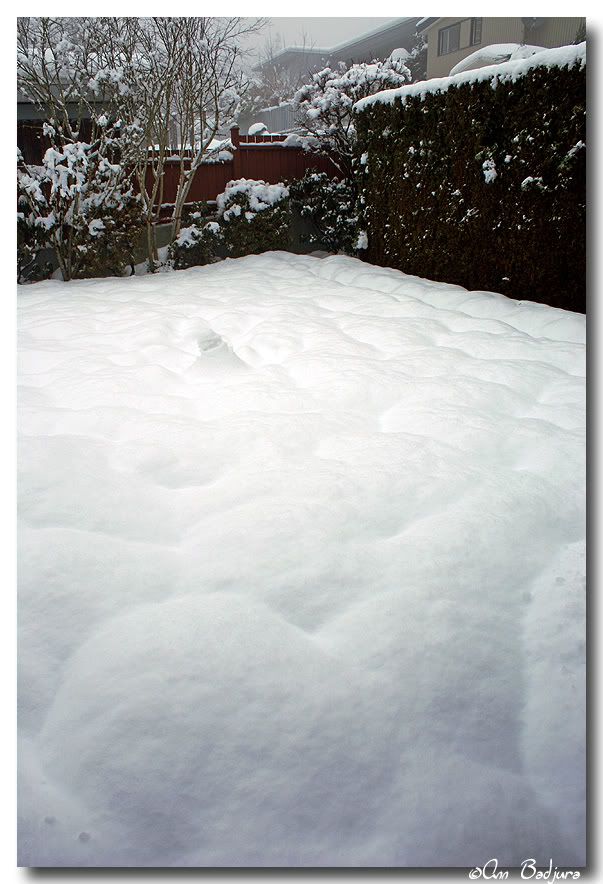 Stay tuned for my next post!