First of all we hope that all of you had a wonderful Christmas and enjoyed your time. We had a wonderful Christmas and this year it was a real white Christmas. Since I wrote in my blog the last time we had some more snow and it looked like there was no end to it. On Tuesday I was off and Michael went to work ok, the back alley wasn't too bad and he got out fine to go to work and to get back. According to the weather reports we were going to get an additional 5 to 10 inches of snow by Wednesday evening and it was going to start late on Tuesday. I wasn't too thrilled with it as I had to go to work on Wednesday and Thursday from 7.00am until 3.00pm. There would be no way that I could get the car out of our garage and into back alley because it's too slippery and there's just too much snow. We figured I could try the bus, but usually they are delayed so much as well. So, I figured if the roads would look too bad I would take a taxi to work. So, we just had to wait and see.
Eerst en vooral hoop ik dat jullie een mooie Kerst gehad hebben en dat jullie ervan genoeten hebben. Wij hadden een hele fijne Kerst en dit jaar hadden we een echte witte Kerst. Sinds de laatste keer dat ik in mijn blog geschreven heb heeft nog wat meer gesneeuwd en het zag er even naar uit alsof er geen einde aan kwam. Op dinsdag is Michael kunnen gaan werken en hij kon goed in en uit ons achterstraatje. Volgens de weerberichten zou er weer eens 15 tot 25cm sneeuw kunnen liggen tegen woensdag avond en het zou beginnen te sneeuw laat dinsdag avond.. Daar was ik niet al te blij mee want ik moest woensdag en donderdag gaan werken van 7u tot 15u. Ik zou niet uit onze garage en achterstraatje geraken omdat het te glad is en er is gewoon teveel sneeuw. Ik zou eventueel met de bus kunnen gaan, maar die hebben meestal veel vertraging in zo'n weer. Dus, ik dacht als de wegen er slecht uit zien dan neem ik best maar een taxi naar mijn werk. We zullen maar afwachten.
It must have started snowing in the middle of the night, as there was no sign of snow yet when we went to bed. I woke up briefly around 4.00am and had a look outside to see that our street up front was covered in snow. Oh my, that was no good. I had set my alarm for around 5.20am so I could be ready a bit earlier than usual. I was ready to go at 6.10am and I called a taxi, they said it was going to take anywhere from now up to 40 minutes before they would be picking me up. I phoned work to let them know that I might be a bit late as I was going to take a taxi and I didn't know what time they would be here. That was no problem. The taxi arrived here around 6.35am and $35 CAD later I arrived at work around 7.10am. The roads were so bad, even the major highway (Highway 1) was covered in compact snow. During my trip to work the snow was just coming down like crazy. When I wanted to go home from work I had to call the taxi again. I only had to wait about 15 minutes this time, not bad I'd say. Even though the snow was coming down like crazy I made it home at a decent time.
Het is waarschijnlijk beginnen te sneeuwen in het midden van de nacht want als wij gingen slapen was er nog geen teken van sneeuw. Ik werd op 4u even wakker en als ik naar buiten keek zag ik dat onze straat al volledig wit was van de sneeuw. Oh jee, dat was niet goed. Ik had mijn alarm gezet voor 5u20 zodat ik wat vroeger klaar zou zijn dan normal. Ik was klaar om te vertrekken tegen 6u10 en toen heb ik dan ook de taxi gebeld en die zeiden dat de taxi waarschijnlijk zou komen binnen de 40 minuten. Ik heb naar mijn werk gebeld om hen te laten weten dat ik mogelijk wat later zou aankomenomdat ik de taxi zou nemen en omdat ik niet wist hoelang het ging duren. Dat was geen probleem. De taxi was om 6u35 bij ons thuis en $35 CAD (20 euro) later kwam ik op mijn werk aan om 7u10. De wegen ware zo slecht, zelfs de snelweg (highway 1) was bedekt in compacte sneeuw. De sneeuw viel met bakken uit de lucht tijdens de rit naar mijn werk. Om terug naar huis te geraken heb ik ook de taxi gebeld en ik moest maar een 15 minuten wachten, dat is niet slecht zou ik zeggen. De sneeuw viel nog steeds met bakken uit de lucht, maar ik was toch thuis op een degelijk uur.
A couple of photos taken in our area in the past few days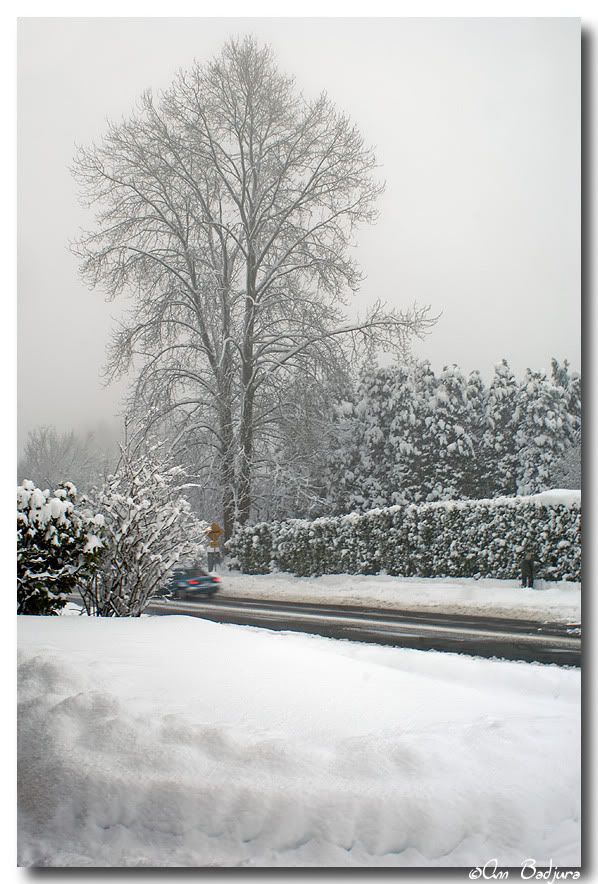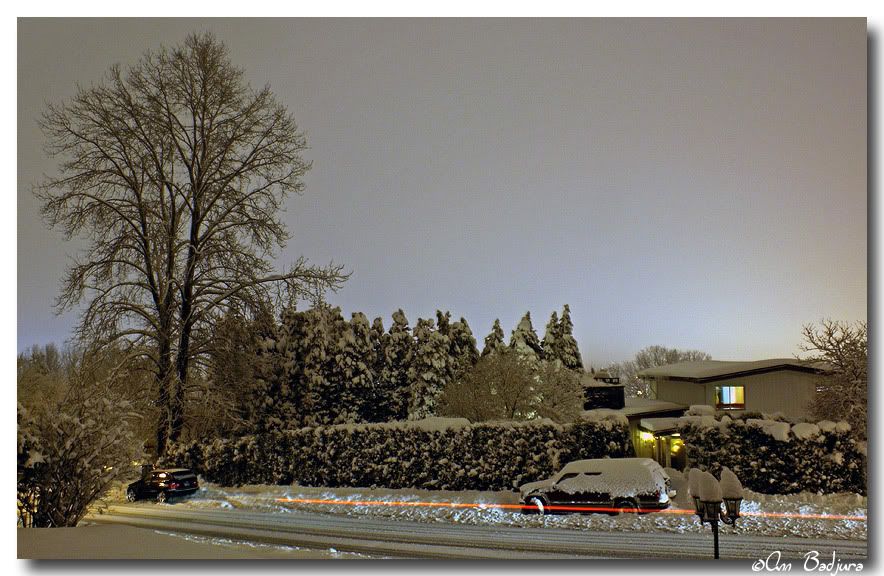 On Christmas Day I had to work as well and again I took the taxi to and from work. It worked out well and it got me safe and sound to where I was going. I got home around 3.20pm and we were expected at Michael's parents for dinner around 5.00pm. We got ready to go and decided to walk down to their place, which is not too far. We couldn't get out of the back alley with our car because it was so slippery. It wasn't too much fun to plow through the snow on foot, but most people had shoveled their walkways so we had a fairly clear passage. But in some places we were knee deep in the snow! We were at Michael's parents place in about 20-25 minutes walking. Dinner was delicious as usual and we had a wonderful evening. We exchanged a few small gifts and talked about all kinds of things.
Op Kerst dag moest ik ook gaan werken en ik heb de taxi weer genomen naar mijn werk. Dit ging prima en de taxi bracht me veilig op de plaatsen waar ik moest zijn. Ik was thuis rond 15u20 en we moesten om 17u bij Michael zijn ouders zijn om te gaan eten. We hadden besloten om te wandelen omdat het toch niet zover is. We konden niet uit ons achterstraatje geraken met de auto want het was veel te glad. Het was niet zo plezant om door die sneeuw heen te stappen, maar de meeste mensen hadden de wandelpaden voor hun huis sneeuwvrij gemaakt, dus wij hadden op de meeste plaatsen een vrij goede doorgang. Maar op sommige plaatsen zaten we knie diep in de sneeuw. We waren op een goede 20-25 minuten wandelen bij Michael zijn ouders. Het eten was heerlijk en we hebben een hele gezellige avond gehad. We hadden paar kleine cadeautjes voor elkaar en hebben over vanalles gepraat.
Lucky I was off on Boxing Day (the 26th) and usually we spend this day in the malls looking for good deals. On this day all the malls are open early and most of their merchandise is 40 to 80% off. My goodness there was so much snow on the ground, I think we had about 3 or 4 feet of snow. We figured we try and get out of our back alley and would pick up Michael's parents and go to the mall for a little while. We barely made it out of the back alley as it was very slippery. On the way to the mall it started snowing pretty good again. We decided not to stay too long and came home in about 45 minutes. It was hard to get up the hill on our street and Michael was all over the road, as if he was drunk. Thank god there were no other cars on the road so it didn't matter that we were all over the place. We had to move the car back and forth a few times as we got stuck while trying to drive into our back alley. Well, that was it…no more going out by car until lots of the snow has disappeared. In the afternoon we decided to take the bus to the mall near here and spend a little while over there. We bought a few things, looked around for a while and came home. I think it must have snowed another 2 inches today. It's unbelievable how much snow we have had over the past couple of weeks. Today it is warming up a little with temperatures just above freezing. Everything is getting all slushy and the snow is getting very heavy. I don't know where all that snow is going to go when it is going to warm up even more. Hopefully it will warm up slowly so the snow has time to melt away. Many roads have huge puddles of water already and are challenge to drive through. We'll just have to wait and see what happens.
Ik was gelukkig vrij op Boxing Day (26ste/2de Kerstdag) en meestal gaan we dan shoppen opzoek naar goede kopjes. Op deze dag zijn alle shoppings en winkels open vanaf 8u 'smorgens en de meeste dingen zijn 40 tot 80% afgeprijst. Er lag nog steeds een pak sneeuw op de grond, ik denk dat we hier minstens een meter tot bijna een meter en een half hebben liggen. We gingen proberen om met de auto uit ons achterstraatje te geraken en we zouden Michael zijn ouders dan gaan uithalen om even naar de shopping te gaan. We zijn er met moeite doorgeraakt want het was erg gald in ons achterstraatje. Op weg naar de shopping begon het weer te sneeuw. We hebben dan besloten dat we niet te lang weg gingen blijven en zijn dan naar een 45 minuten terug naar huis geweest. Het was zo moeilijk om bij ons de straat omhoog op te geraken, Michael ging heen en weer op de weg omdat de auto slipte…gelukkig waren er geen andere auto's op de weg. En om in ons achterstraatje te geraken moesten we een paar keer heen en weer met de auto want we zaten vast. Wel, dat was het dan…we gingen niet meer met de auto weg tot dat de sneeuw wat aan het verdwijnen is. In de namiddag zijn we dan met de bus naar de shopping hier dichtbij gegaan voor een paar uurtjes. We hebben een paar dingen gekocht, wat rondgekeken voor een tijdje en dan weer terug naar huis. Ik denk dat we weer een goede 5cm sneeuw bij gekregen hebben. Het is ongelofelijk hoeveel sneeuw we de laatste paar weken gehad hebben. Vandaag is het wat aan het opwarmen met temperaturen net iets boven het vriespunt. Nu begint alles zo wat smodderig te wordenen de sneeuw is nu een heel stuk zwaarder. Ik weet niet waar al die sneeuw naartoe zal gaan als het begint te smelten, dus hopelijk warmt het zachtjes op en kan de sneeuw stilletjes aan smelten. Vele wegen staan al vol grote plassen met water en het is hier en daar een kunst om er door te geraken. We zullen moet afwachten hoe het zal verlopen.