~Please click on the photos to see a larger version of it!
~AUB klik op de foto's om een grotere versie ervan te zien!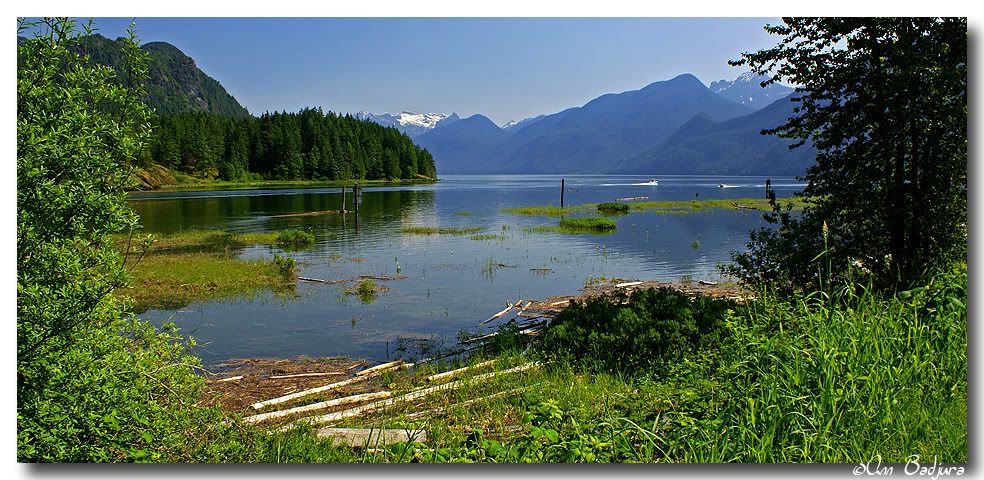 Not too much news over here, except that it's hot hot hot and sunny...we've had temperatures of 30 C (87 F) and over since Monday. Tomorrow it's supposed get a little cooler, but still sunny. Yesterday I had an orientation day at Golden Ears Seniors Village for a few hours. It's a lovely place and the staff are very friendly. Sadly enough they only have 1 day shift available (from 7.00am until 7.00pm) next week, which I will take. The rest are all night shifts (from 7.00pm until 7.00am), but I am not sure if I want to nights. I'll think about and see what happens. In the mean time I will apply at the hospital again, I'd like to go back into orthopedics.

On Wednesday Michael and I drove out to Maple Ridge to see where this Golden Ears Seniors Village was located. This way I wouldn't have too much troubles finding it in the morning. On the way back we drove to Pitt Lake where I haven't been to for such a long time. This is a wonderful lake surrounded by mountains and it's only about 20-25 minutes driving from our house. The sun was setting and the sky looked very pretty, so of course I took some photos. After my orientation yesterday at the Golden Ears Seniors Village I couldn't help but go back to Pitt Lake and stop on the way here and there to take some photos. For the rest everything is going as usual here. Michael is doing good as well and he is still working hard on the roof, but it looks really good

Niet veel nieuws vanuit Canada, behalve dat het erg heet is en zonnig...we hebben sinds maandag al temperaturen van 30 graden en meer. Morgen zou het een paar graden minder worden, maar nog steeds vrij zonnig. Gisteren ben ik voor een orientatie van een paar uren geweest bij Golden Ears Village. Het is een leuke plaats met heel vriendelijk personeel. Jammer genoeg hebben ze voorlopig maar 1 dag dienst ter beschikking (7u tot 19u) voor volgende week en die ga ik dan ook doen. De rest van de diensten zijn allemaal nacht diensten (van 19u tot 7u), maar ik doe liever geen nacht diensten. Ik zal wel zien wat ik ermee doe. Ik zou graag weer in het ziekenhuis gaan werken, dus ik ga me aangeven en zien of er iets voor me is. Ik zou graag orthopedie doen, wat ik in Belgie ook deed.

Op woensdag zijn Michael en ik naar Maple Ridge gereden om te zien waar dit Golden Ears Seniors Village gelegen is. Zo zou ik niet teveel moeite hebben om het de dag erna in de morgen te vinden. Op de terug weg zijn we naar Pitt Lake gereden, daar was ik al heel lang niet meer geweest. Dit is een prachtig meer omringd door bergen en het is maar een 20-25 minuten rijden van ons thuis. De zon was al aan het ondergaan en de lucht zag er heel mooi uit, dus ik heb wat foto's genomen. Ik kon het niet laten om na mijn orientatie gisteren bij Golden Ears Seniors Village nog eens naar Pitt Lake te gaan. Ik heb er nog wat foto's genomen en ook onderweg hier en daar. Verder gaat alles zijn gewone gangetje. Met Michael gaat ook alles goed en hij is druk bezig op het dak, maar het ziet er prima uit.


Some photos of Wednesday evening at Pitt Lake