~Please click on the photos to see a larger version of it!
~AUB klik op de foto's om een grotere versie ervan te zien!
Burnaby Lake Regional Park, Burnaby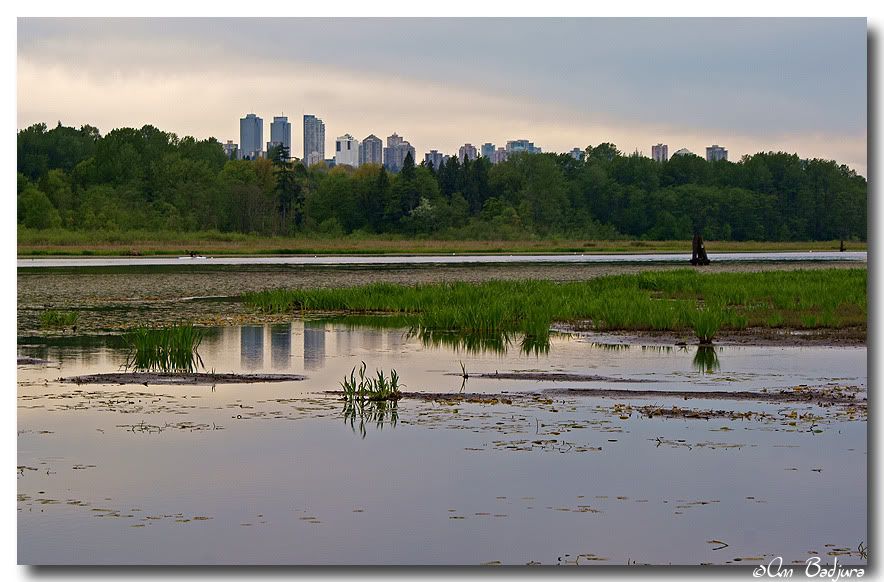 Time for a quick update again. Lots has been going on and I haven't had much time to update my blog, but now I am making some time. On Mother's Day I called my mom in Belgium…that was so wonderful. It's always great to talk to my mom! Michael and I went to Burnaby Lake for the afternoon for a walk and to take a few photos. In the evening we went to Michael's parents for a quick visit to wish his mom a Happy Mother's Day. Monday and Tuesday I worked in the morning and Michael worked as well. But Wednesday was the big day…we were going to get new windows installed and a patio cover. They started on Wednesday and were done by Friday evening to install all the windows. The windows look great! Next week they are coming back to do the patio cover. On Friday it was my Birthday, but we didn't do too much. Ineke & Sandor visited us in the afternoon for a little while and they gave me a gift card…that was nice of them, they didn't have to do that…thanks guys! In the evening we picked up dinner and went to Michael's parents place to eat it. Michael's mom made a delicious chocolate cake, hmmmm…that's always so good!

Tijd voor weer eens een update. Er is heel wat gaande hier en ik heb niet veel tijd gehad om mijn blog bij te houden, maar nu maak ik er toch wat tijd voor. Op Moederdag heb ik naar mijn moeder gebeld in Belgie, dat was zo fijn. Het is altijd zo aangenaam om met mijn moeder te praten. Michael en ik zijn die namiddag naar Burnaby Lake geweest voor een wandeling en om wat foto's te nemen. 's Avonds zijn we even bij Michael zijn ouders geweest om zijn moeder een Gelukkige Moederkesdag toe te wensen. Maandag en dinsdag moest ik de morgenpost werken en Michael moest ook werken. Maar woensdag was het de grote dag...we zouden nieuwe ramen krijgen en een afdak voor ons terras. Ze zijn op woensdag begonnen en waren op vrijdag klaar met de ramen. De ramen zien er prima uit! Volgende week komen ze het afdak zetten van het terras. Op vrijdag was het ook mijn verjaardag, maar we hebben die dag niet veel gedaan. Ineke & Sandor brachten ons een bezoekje en ik heb een gift card van hen gekregen...dat hadden ze niet moeten doen...Dank jullie wel! 's Avonds zijn we eten gaan uithalen en naar Michael zijn ouders gegaan om het samen op te eten. Michael zijn moeder had ook een heerlijke chocolade biscuit gemaakt, hmmmm...die is altijd zo lekker!



When Ineke and Sandor were visiting us on Friday, they wondered if we were interested in going to the Cloverdale Rodeo and Country Fair. Well, we thought that was a good idea so we met them at their place around noon on Saturday and we went together to the rodeo. Once we parked the car, there was a wagon waiting for us pulled by a John Deer tractor…quite funny to see and to sit in! This would take us for a ride to the entrance of the fair. At 2.00pm the rodeo began which was quite interesting. After that the women did some horse riding as well and then there was the bull riding. Quite something how some of these guys can stay on the horse or the bull. At the fair there were many things to buy and many rides to enjoy. We just walked through there and made our way back to Ineke's & Sandor's place to let the doggies out as we were going for dinner with them after that. We went to White Spot where Ineke and I had a lovely bellini, this is an alcoholic drink composed of a slushy blend (ground up ice) of Appleton Estate VX Rum, Peach Schnapps & Sangria.…hmmmm that was really nice. The food was good, the company was great and we had a real wonderful day together!

Toen Ineke en Sandor bij ons op bezoek waren op vrijdag, vroegen ze zich af of we geinteresseerd ware nom naar de Cloverdale Rodeo en Country Fair te gaan. Wel, we dachten dat dat een goed idee was en rond de middag waren we bij hun thuis en gingen we samen naar de rodeo. Eens als we daar parkeerden stond er een soort paardenkar die voortgetrokken werd door een John Deer tractor...grappig om te zien en om in te zitten. Deze bracht ons naar de ingang van de Fair. Om 14u begon de rodeo wat erg interessant was. Daarna deden de vrouwen ook een soort snelheids competitie met de paarden en dan was ook nog het bull riding. Erg interessant om te zien hoe die cowboys het kunnen volhouden op zo'n paard of een bull. Op de kermis was er vanalles om te kopen en vele attracties om van te genieten. We hebben er gewoon wat rondgewandeld en daarna gingen we terug naar Ineke's en Sandor's thuis om de hondjes uit te laten want daarna gingen we nog uit eten. We zijn naar de White Spot gegaan waar Ineke en ik een heerlijk Bellini hadden, dit is een alcoholisch drankje gemaakt van gemalen ijs met Appleton Estate VX Rum, perzikken schnapps en Sangria...hmmm dat was heel lekker. Het eten was goed, het gezelschap was geweldig en we hebben een heerlijke dag gehad!