January 2007 - December 2007...Part 2:
After my family from Belgium left it was hard to get back into my studies as I missed them being here. I especially missed my mom the most and each time she leaves it's hard for a little while, but it's nice to have so many fun memories each time she comes over. This time we had so much fun and had so many laughs, especially with my aunt and uncle around. It was a great holiday for all of us! The downside of it was that I had to catch up on a lot of studying as I had to be finished with the theoretical part on August 9/07. In July we would be going to Mara Lake for 1 week (our yearly holiday) and we booked 5 days in the USA to visit Olympic National Park at the end of July. Well, before we left to Mara Lake I realized that I didn't have enough time to finish all my exams and studies if we would go to the USA as well. So, we canceled our trip to the USA for the end of July and rescheduled it for the end of August as I probably wouldn't be that busy with my studies. We left in the middle of July for Mara Lake together with Michael's parents. Mara Lake is about 500km east of Vancouver and located in the Monashee Mountains. We always rent a cabin there and two aunts of Michael also come that way from Calgary which is about 500km west for them. So we all travel as far to get to Mara Lake.
We had a great week with hot weather for the first 5 days and the last 2 days were cooler and some rain. It was good to see our family again, we had a blast and fun talking about everything and anything. This is a week of total relaxation without doing all too much. I did try to get a little of studying in everyday, just to keep up with it for when we would be at home again. We also went to see some nice waterfalls and walked around in the area. We were also able to enjoy the sunshine and we went swimming in the lake a couple of times which was really nice. It's a great place to be on holidays. The week flew by as usual and before we knew it we were home again. Once we got back home it was hard to jump right back into full days of studying again. But I did manage to finish everything on time and was able to write all my exams by August 6/07, a few days earlier than expected. I passed everything and has a an overall score of 80% on this part of the course as well! So, that's fantastic.
Some photos from our stay at Mara Lake (Click on photo for larger view)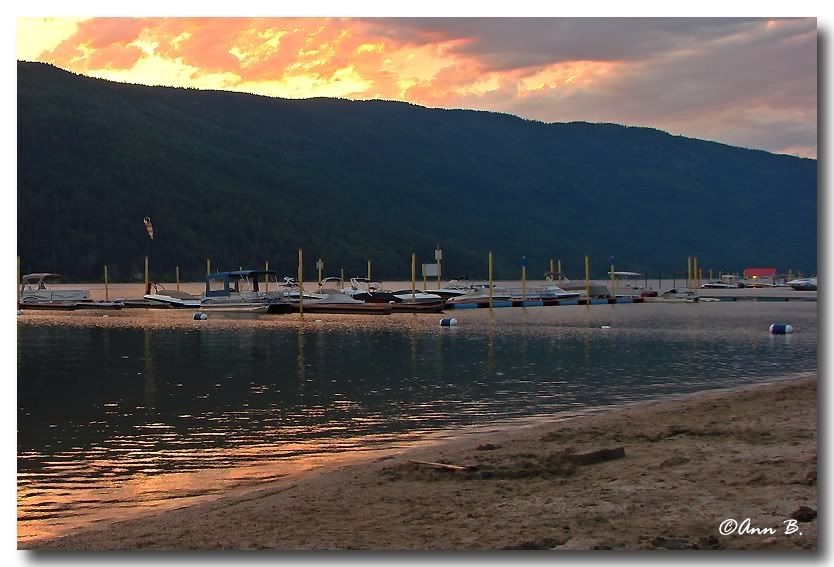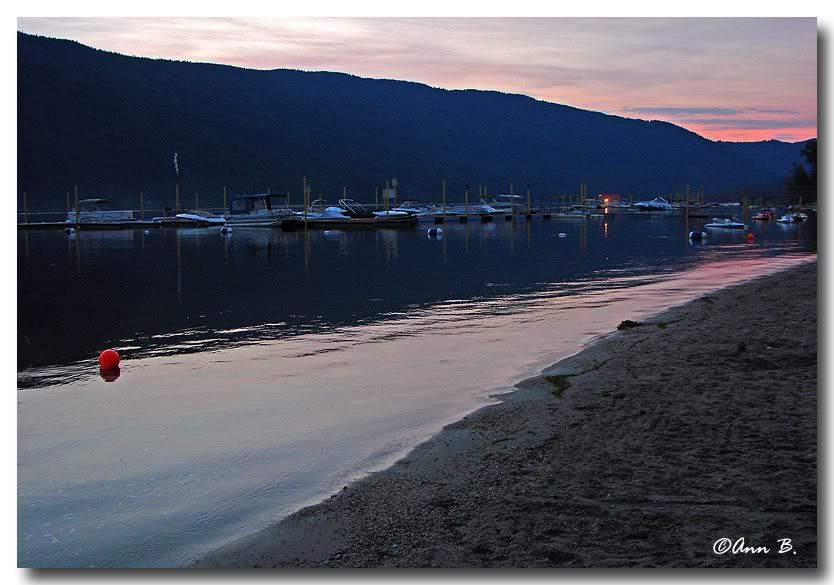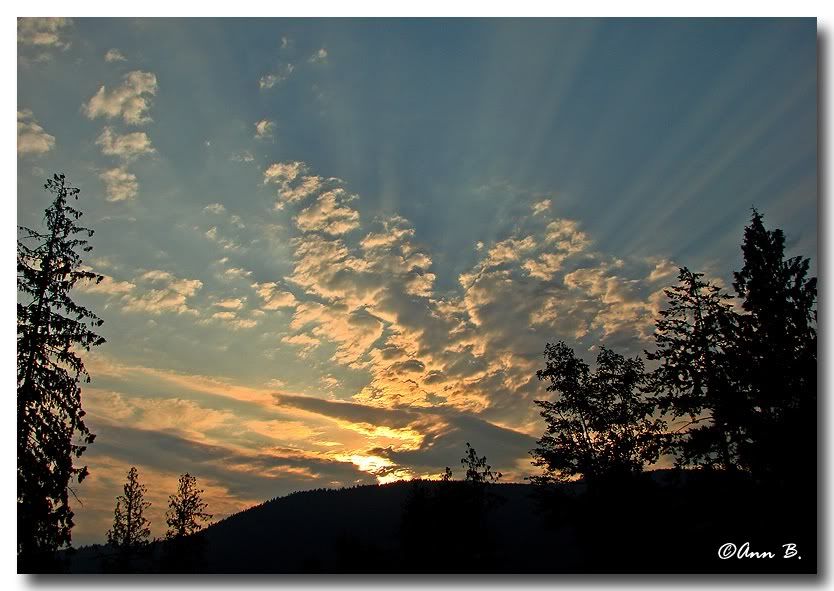 As you might have read in my previous post, we were going to go to the United States at the end of July 2007, but because I really could use those 5 days for my studying we postponed our little trip to the end of August 2007. We finally went from August 25 until August 29. Around that time it's a bit calmer and the weather is usually still fairly nice around this time of the year. Olympic National Park is located on the Olympic Peninsula in Washington State, USA which is about 350km from where we live and a half an hour on a ferry. Olympic National Park is such a diverse and beautiful park with lots of diversity. You can enjoy a walk on the many beautiful beaches and watch the big waves roll in, you can enjoy spectacular alpine country with high mountain peaks, sparkling lakes, lush meadows, glaciers, waterfalls and North America's finest temperate rain forest.

We wanted to spend about 5 days in this beautiful park and after doing some research on what there is to see and do I quickly realized that it's a huge park with many different areas to visit, all with its own unique character. We knew we wanted to see the beaches with their sea stacks (big rocks sticking up from the ocean) and the rain forests for sure...these two place were a must! Besides that we also wanted to see the Olympic Mountains, some of the lakes, waterfalls and maybe the Cape Flattery area if we had time (which is the most western point of Washington State). So, it was time to do some more research so we could decide what we wanted to visit and what not. After looking around on the internet for several days we decided we wanted to stay in a place near the town of Forks which is on the west side of the Olympic Peninsula since most of the things we wanted to visit were the closest to Forks. We stayed in a cabin which was about 5km from Rialto Beach, one of the beautiful beaches in Olympic National Park.

This is what we did:
*Day 1: Driving from our home (Vancouver area, Canada) to Forks, USA. We took the ferry in Edmonds (just north of Seattle) which would take us to Kingston on the Olympic Peninsula. We stopped in Port Angeles for lunch and went to a few stores to stock up on some food to take with us to the cabin. We also stopped at the Hurricane Ridge visitor centre which was also in Port Angeles and from here you can drive up a road into the mountains. This road is called Hurricane Ridge and from the top you get a view over the Olympic Mountains and the glaciers, but the weather wasn't all too great and the mountains were hidden in the clouds so we wouldn't get a view. We decided not to drive up there and were hoping for good weather on the way home for to drive up to Hurricane Ridge as it's a little too far to drive from Forks.

After lunch we left Port Angeles and drove to Forks, we had some rain on the way but it the distance it looked like it was going to clear up. We arrived at the cabin around 4 o'clock in the afternoon. We had a full kitchen with a table and chairs, bathroom with shower, queen bed and a TV. After settling in and having some dinner we noticed it cleared up and the sun came out. We decided to drive down to the beach which was only a few minutes driving for a nice evening walk and to watch the sunset. Wow, what a beach and those waves…amazing and then those sea stacks rising from the water in the distance, it was so beautiful! It's not a place for swimming because the water is too wild and there are a bunch of logs that end up in the ocean from the rivers and get tossed on the beach by the huge waves during winter storms. The sunset this evening was absolutely gorgeous…what a beautiful place!
*Day 2: Since we heard that it was still going to be cloudy and a chance of showers we decided to go to the Hoh Rain Forest first as it was about an hour and a half driving to the south of Forks. The rain forest is so densely forested that you wouldn't feel the rain that much if it would rain. Once we were driving on the Upper Hoh Road which leads into the rain forest you could tell that the forest was getting denser and denser. Once we got to the parking lot of the Hoh Rain Forest we wandered down to the visitor centre and decided to walk two trails. We would walk the Hall of Mosses Trail (loop) of approximately 1.5km and the Spruce Trail (loop) of approximately 2km. We felt a few drops of rain, but later on the sun came out as well.

These walking trails were amazing and we took our time to enjoy these trees covered in moss, in many places the moss was just hanging of the trees. It looked like a fairytale forest which was beautiful and almost creepy at the same time. I loved it, it was something so different from what I had seen. This is not like a tropical rain forest, but it is a temperate rain forest. This was a highlight during our trip. After our walks in the rain forest we returned to our cabin, but stopped in the town of Forks to do a bit of shopping. Once back at the cabin and after dinner we drove to the beaches of La Push which was about 10km from our cabin. Here we walked the Second Beach trail through the forest which was approximately 1.5km one way. At the end of this trail we ended up on a beautiful sandy beach with little island just off shore and sea stacks in the distance. After a walk on Second Beach we went to the main beach in La Push to enjoy the sunset. This was another beautiful beach with amazing views and lots of sunshine.
*Day 3: On this day we decided to travel north of Forks and head to the the Sol Duc Valley where we walked to the Sol Duc Falls, where we visited Lake Crescent and walked to the Marymere Falls. These were all in about 30 minutes from each other. First we went to the Sol Duc Falls which you can reach by walking the 1.5km trail from the parking lot. We walked through a dense forest with little creeks and lots of greenery. The falls were so beautiful, it were three falls thundering down into a canyon. They weren't very high (about 40ft / 10-12m high), but quite impressive to see. I tried a few nice photos with the slow shutter speed effect so it looks silky falls. When we were done with our walk we had a picnic in the forest which was lovely. We headed out to Lake Crescent and walk around there.

This is also a beautiful lake with bluish water, it's quite amazing to see. The surrounding mountains are beautiful as well, I really enjoyed the views here. From Lake Crescent there is a trail that leads through the forest over some foot bridges and over Barnes Creek to the Marymere Falls. The trail is about 1.5km from the parking lot to the waterfalls. It's a beautiful walk through the forest to these beautiful falls which are about 90 ft (40m) heigh. They are quite high and look like a veil which was really unique. The weather was beautiful all day with excellent weather and lovely temperatures. By the late afternoon we headed back to our cabin where we had dinner and after that we went to the beach again as the weather was so lovely. We enjoyed another stunning sunset at Rialto Beach!
*Day 4: Since we were leaving tomorrow we wanted to take it easy in the morning and don't drive too far to do something today. We decided that we would head back to Rialto Beach after lunch where we would walk to the "Hole in the Wall" which is a big sea stack with a hole that has been corroded by the waves. At low tide you can actually walk through this hole and continue to the beach on the other side of this big rock. We only walked to the Hole in the Wall, but didn't go through it as the tide wasn't at its lowest yet.
The walk to "Hole in the Wall" was about 2.5km one way and we took our time to get there while we enjoyed the beautiful surroundings and amazing scenery. We took a picnic along with us, so we could eat at the beach around dinner time. We stayed here until after dinner and enjoyed our last evening at this beautiful beach. We didn't want to leave, we had so much fun and enjoyed each other's company so much! Maybe some day we would go back!


*Day 5: Today we got up fairly early as we wanted to get to the ferry terminal in Port Townsend before noon. It was a fantastic day that started off with a few clouds and sunshine, but noon it the sky was crystal clear. We drove from Forks to Port Angeles where we stopped for some shopping as we wanted to take a bunch of things home that are cheaper here. We also drove up to Hurricane Ridge to see the Olympic Mountains as it was such beautiful and sunny day! The views on the top were gorgeous, those mountains are so beautiful. After that it was time go catch the ferry in Port Townsend which would take us to Keystone on Whidbey Island.

On this island there was a little town called "Coupeville" where the store "A touch of Dutch" is located. I bought a couple of pairs of cloggy slippers. These look like Dutch wooden shoes, but they are fluffy slippers in the shape of wooden shoes and they are super comfy! We drove through the rest of Whidbey Island and had to go over the Deception Pass Bridge. Here we stopped for a minute to enjoy the scenery. It's a beautiful bridge and the views from here are amazing. After that it was on to Burlington, Lynden and back into Canada to Vancouver. This was the end of our trip which was fantastic, but it went so fast. We hope to return here in the future to see the rest of this amazing national park as we only saw part of it!


Everything is still going great over here with us and we are still happy together and enjoying our time together. On December 4/2007, Michael and I knew each other for 8 years in person…it's unbelievable how fast the time goes. It doesn't seem that long since we met and since I moved to Canada, but here I am almost 8 years later and we are still so much in love and still enjoy every moment we have together. Michael is everything that I ever wanted in a man and I can't believe that I am so lucky! Otherwise I am still doing my course, it's going pretty good as I am almost finished. I did my labs in October for which I had to go into class. I did 6 lab days (each of 4 hours) and now I am practicing all the techniques until I can do my lab skill test which will probably be in a few weeks or in the beginning of January.
After that I will be going for my preceptorship (a practice in the hospital) which will be for 4 weeks and after that I will be done with my course. All that will be left to do is the Registered Nurse exam and that one only takes place 4 times a year, so I'll see when I can get in for that. In the meantime I am still working part time at the same place and I also took on a casual position at a place that is less than a kilometer from our place. At this job I fill in when somebody is sick or wants to take a day off, so I don't have to work there very often. They do 12 hour shifts there as well, so you don't need to work as much to get lots of hours. We also went to the USA for one day of shopping with Michael's parents. It was so much fun and we brought lots of stuff with us to Canada. The groceries are so cheap over there and many other things as well. I bought a cool stethoscope which I need for my practice and a bundle of cool uniforms as well.
In Canada we can wear colored uniforms from blue to black to pink to white…anything you like. There are also pretty uniforms with printed tops that feature flowers, butterflies, Disney characters and so on. There are plenty of choices. We also had Thanksgiving which is on a different date then the Thanksgiving in the USA. We celebrate Thanksgiving on the second Monday of October and in the USA it's the third Thursday of November. The meaning is the same and to make it short you can say that it mainly means that people would celebrate a good good harvest.
This became a tradition and over the years it became a statutory holiday. We had a lovely turkey dinner at Michael's parents place, it was delicious.I am still in touch with my mom. We phone at least ones a week and sometimes more if we can. It's always good to talk to her and to have a conversation about many different things and sometimes about little nothings which is fun too. My mom and I get along great and I am so happy for that. I am always happy to hear that she is doing pretty good as I am sure it's not getting easier on her to get older and to be without my dad. Heck, I think about my dad everyday and I miss him like crazy. It's nice that my mom and I can talk about the fun times we had over here when my dad was here too. They have been to Canada twice together and I am so thankful for that. That Christmas of 2002 was the best one in my life and I will never forget it as I was able to celebrate it with my mom, dad, my sweet Michael and his wonderful parents! These are memories that will never be taken away from me. With Christmas around the corner I can't help but think of my mom being alone and my dad not being around anymore. I'll miss him even more around these days! Anyway, I will be in touch with my mom a bit more around this time of the year as I am sure it's not easy on here either!
Well, we had our first snowfall and it was quite a heavy one. We had about 20-25cm over the weekend (end of November 2007). It started snowing yesterday (Saturday Dec 1/07) afternoon and all day today. It was really pretty to see this real winter wonderland, but then again it's supposed to warm up overnight and start raining in the morning…so the snow will be gone before we know it. We have had beautiful sunny weather for about 2 weeks with a day of rain or flurries here and there, but overall wonderful weather with cool temperatures. I also found a stock website where I can sell some of my photos and I have been doing quite well. So far I have made about $140 USD in a few months which is great! I will be taking more photos and posting some more on there…the more photos you have the more you will sell. I still enjoy photography and whenever I have time I am out and about with my camera. One of my favorite places to go take some photos is on top of Burnaby Mountain which is only 10 minutes driving from my home. The views up here are stunning. You have great views over downtown Vancouver and the Pacific Ocean, the totem poles, the mountains and Indian Arm (an 18km long fjord).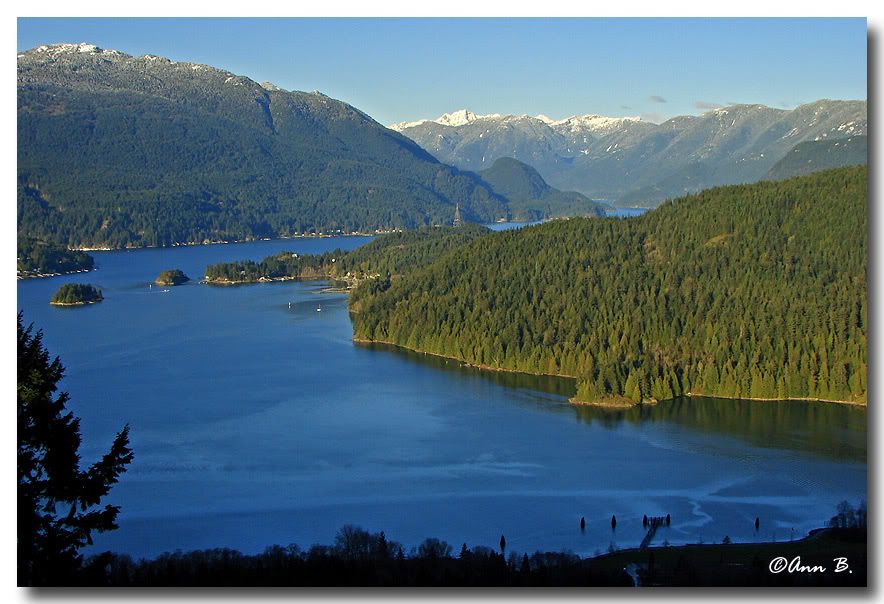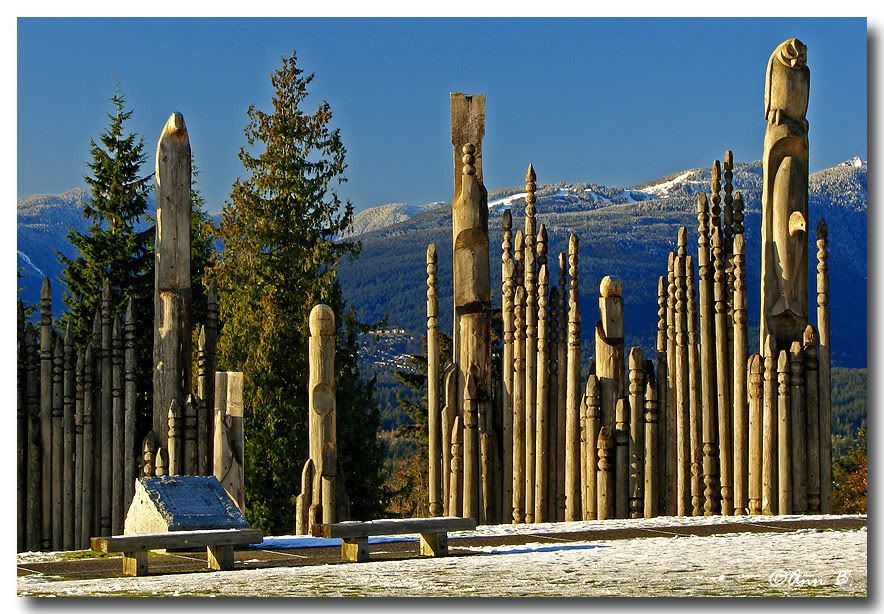 Please see my next post "My life in Canada (January 2008 - May 2008)... for the rest of the story!